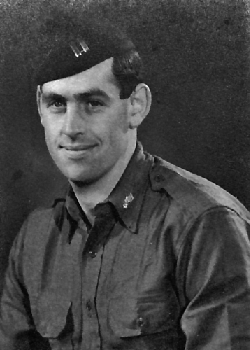 Robert O. Williams
Biography: Robert Owen Williams, "Bob", was born on September 13, 1913, in Garndolbenaen, Gwynedd, Wales. In 1914, Bob, along with his mother, Jane Williams, and his brother, David, emigrated to the U.S. As of 1925, the family was living in Utica, Oneida County, New York.
Due to the depression and financial concerns, Bob enlisted in the New York National Guard on November 10, 1932, serving with Troop A, 121st Cavalry. He would spend much of his time at Pine Camp, NY, but with the impending war, the Horse Calvary would shift to mechanized warfare and Bob was assigned to the National Guard's 101st Antitank Battalion.
He married the former Helen L. Davis, who was born in Plainfield Center, New York, and was the daughter of Earl R. Davis and Elizabeth Roberts.
Service Time: The 101st was federalized on January 6, 1941, and re-designated as the 801st Tank Destroyer Battalion on December 15th of that same year. At some point, Bob attended OCS (Officer Candidate School) and was commissioned as a 2nd Lieutenant. He served with other tank destroyer battalions before finally being assigned to the 5th Tank Destroyer Group and served as Commanding Officer of Headquarters Company. The 5th had been activated at Camp Hood, Texas, on September 1, 1942, and then moved to Camp Young, California, which was part of the Desert Training Center, on April 23, 1943. They then moved to Camp Gruber, Oklahoma on November 19, 1943, as part of the X Corps.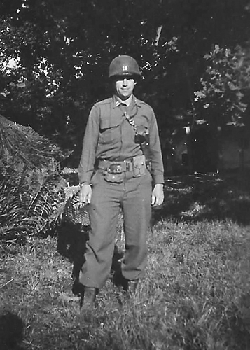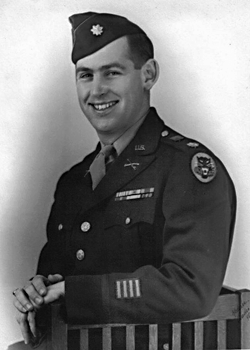 The unit prepared for shipment at Camp Kilmer, New Jersey, on December 27, 1943, and shipped from the New York Port of Embarkation on January 2, 1944. They arrived in England on January 10th, and then boarded transports and shipped to France, landing on July 12th. The 5th supported the XV Corps and acted as their Anti-Tank Section, moving into Germany on March 18, 1945, and then into Austria on May 5th. The unit received credit for the campaigns of Normandy, Northern France, Rhineland, Ardennes-Alsace and Central Europe.
In an interview from 2001, Bob recalled some of his experiences from WWII. During one instance, he and his jeep driver were inspecting some shelled-out buildings. When they entered one, they heard thumping coming from the second floor. Bob pulled out his 45 Caliber pistol and his driver readied his rifle. They proceeded to go up the stairs and were stunned to find a horse walking around. They could only imagine that the horse must have been frightened and climbed the stairs. They couldn't imagine that he had been blown up there. Unfortunately there was no way to get the horse back down so they ended up having to shoot it.
He was asked if he had done anything for luck during the war and related that a German Focke-Wulf plane had strafed the unit while they were in the vicinity of St Lo, France. He had jumped into a cellar for cover and found a small silk doll that was about 6″ tall. He picked it up and carried it with him the rest of the war. He stated that he had never told anyone about it. After the war had ended, they were in Salzburg and he took the doll out of his jacket and realized how dirty it had become. He placed it in the jeep's glove compartment until he had an opportunity to clean it up some. He let one of his young soldiers use the jeep to get supplies and while he was on his way to the depot, he was in a serious accident and the doll was lost.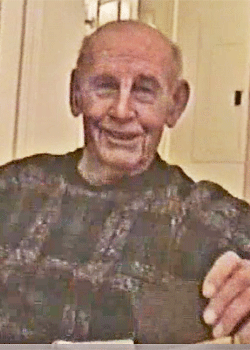 Bob received two Bronze Stars for Meritorious Achievement, with one being for Ground Operations in France and Germany from July 31, 1944, through May 8, 1945. Bob felt that the most difficult and costly battle in regards to loss of lives, for both sides, was the Falaise Gap. He went on to serve in the Korean War and received numerous awards, retiring from the military in February of 1961, at the rank of Lt. Colonel.
With the Army life behind him, Bob went to work for a printing company as a typesetter. In his spare time, he enjoyed hunting and woodworking and belonged to VFW, the American Legion, the Ziyara Shriners and Liberty Lodge of Free and Accepted Masons.
Bob passed away on February 18, 2004, and was buried in the Crown Hill Memorial Park, Clinton, New York. I want to thank Bob's Great-Nephew, Daniel, for providing information for this tribute.