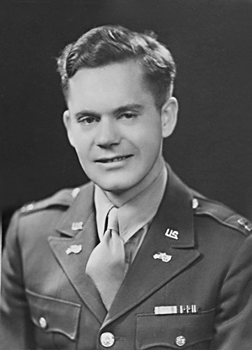 Jean L. Wood
Biography: Jean Lindley Wood was born on June 15, 1917, in Tacoma, Pierce County, Washington. He was the son of Harry Joseph Wood and Gertrude Naima Lindstrom, one of three sons and a daughter born to the couple.
He attended Lincoln High School in Tacoma, graduating in 1937. That fall, he began studies at the University of Washington, majoring in Public Speaking. He graduated in 1941.
Service Time: That same year, he was commissioned as a 2nd Lieutenant, Infantry, and ordered to active duty, eventually being assigned to the 899th Tank Destroyer Battalion. They trained at Fort Lewis, Washington, Hunter Liggett Military Reservation, California and Camp Hood, Texas, during 1942. On February 21, 1942, Jean married the former Constance Corrine Cutler at Port Townsend, WA. She was the daughter of Albert Benoni Cutler and Phoebe Ann Martin. They would have a son, Robert L. and a daughter, Sandra Susan.
On January 13, 1943, the 899th shipped out from the New York port and arrived in Casablanca, Morocco, on the 26th. They participated in several battles in North Africa where Jean was wounded at El Guettar, Tunisia, on March 25, 1943. He was promoted to Captain in October and they shipped to Naples, Italy, in November. They almost immediately re-boarded ships and were transported to England, where they trained for the coming invasion of the continent. The 899th landed at Utah Beach, Normandy, France, on June 6, 1944. Jean was serving as the Reconnaissance Company Commanding Officer during this time.
On June 7th, near St. Mere-Eglise, France, while he was returning to the unit Headquarters with two enlisted men, they were ambushed and captured by a group of German soldiers who had infiltrated behind Allied lines. Jean was wounded for a 2nd time in this incident. For the remainder of the war, Captain Wood was a POW (Prisoner of War), spending most of the time at Oflag 64, Szubin, Poland. He took an active part in the scholastic program at the camp, teaching speech, English and spelling.
Jean had received special training with the OSS (Office of Strategic Services) which enabled him to send coded messages to his wife from the camp. She wasn't aware of the messages but they provided intelligence information to the Allies. He was later awarded a Bronze Star for intelligence work behind German lines and being of service to fellow prisoners.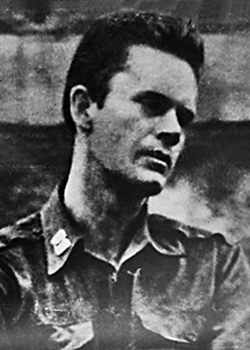 On January 21, 1945, the Soviets were approaching the camp and all able-bodied prisoners were marched through snow and bitter cold most of the 400 miles to Stalag XIII-A, a POW camp near Hammelburg, Germany, arriving there on March 10th. The photo at left shows Jean during, or just after, his incarceration as a POW. The camp was liberated by the Russians in April, and following his return to U.S. military control May 7th, he was soon shipped home, arriving on June 3, 1945.
POW I.D. Card – To be carried at all times
In October, 1945, Jean graduated from the Information and Education School, Lexington, Virginia, and by December, he was serving as the Chief, Armed Forces Radio Service (AFRS), Panama, followed by a stint as Chief, AFRS, Washington, D.C. He was promoted to Major on October 21, 1946, and in 1947 and 1948, he attended Teachers College, Columbia University under Army auspices, receiving an MA degree in Mass Communications.
His next post was a two year assignment as Chief, AFRS, Far East Command, Tokyo, Japan. In March of 1950, he was assigned to the 7th Infantry Division, Korea, and made the Inchon and Iwon landings. While leading a patrol toward the Yalu River in North Korea, he was wounded and returned home through medical channels.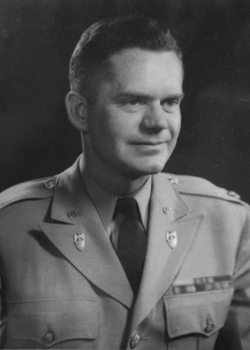 In 1954, following his recovery from a major medical event, he received a medical discharge and retired as a Lt. Colonel on March 31, 1955. At some point after retiring, he was studying for his Ph.D. at Stanford University and was on the speech faculty. Jean passed away unexpectedly on January 17, 1959.