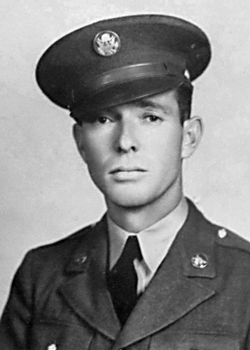 Thomas D. White
Biography: Thomas Daniel White was born on June 2, 1917, in Devol, Cotton County, Oklahoma, to Tom McClain White and Maude Mae Daniel. He was the only son out of 7 children born to the couple.
Service Time: Thomas entered the Army on March 7, 1941, at Lea County, New Mexico, and was sworn in at Santa Fe, NM. He was eventually assigned to the 804th Tank Destroyer Battalion which was organized in January, 1942, at Camp San Luis Obispo, California.
Training was conducted at March Field, where they served as airdrome security, the Desert Training Center and La Mesa, all in California. Next was a move to the Tank Destroyer Center at Camp Hood, Texas. At the end of July, that same year, they moved to Indiantown Gap, Pennsylvania, to stage for overseas movement, which began on August 6th with the unit arriving in Belfast, Ireland on the 17th.
More training ensued followed by a move to England in late November and on January 15th, 1943, they sailed from England, landing in Oran, Algeria on February the 1st. In North Africa, they trained French troops on M10 tank destroyers; only battalion observers went to front. The unit arrived at Naples, Italy, on February 8, 1944, and moved to the Gustav Line along the Garigliano River by March 9th.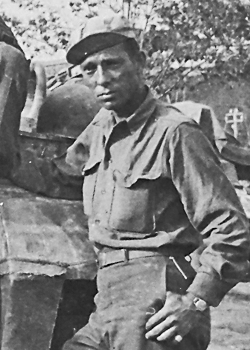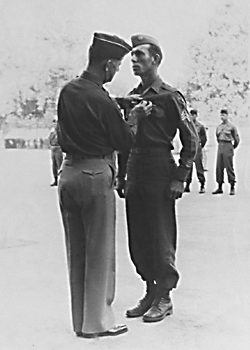 They entered Rome on June 4th. Carrying the infantry into Livorno on July 18th, they crossed the Arno River in September and then supported attacks on the Gothic Line through October. Primarily serving as mobile artillery during the winter months, the 804th broke into the Po River Valley in April, 1945, and crossed the Po River on April 27th. Company C was part of the column that linked up with U.S. Seventh Army troops in Brenner Pass on May 5th.
At some point, probably after combat ended, Thomas was transferred to Company B of the 894th Tank Destroyer Battalion. This was likely due to the points system used by the Army to determine when soldiers would be sent home.
Thomas received credit for the three campaigns the 804th participated in; Rome Arno, North Apennines and Po Valley. He was awarded a Bronze Star Medal and also received the EAME, American Defense and Good Conduct medals. He left the Army on September 21, 1945, at Fort Bliss, TX, at the rank of Sergeant.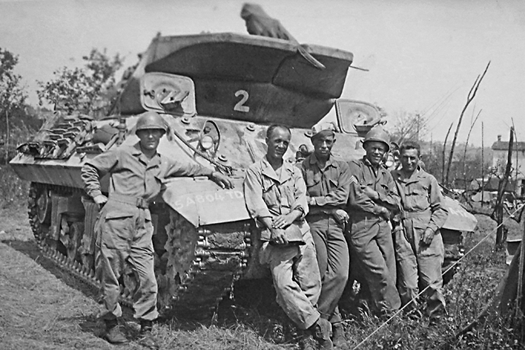 In the photo above, Thomas is shown (center, in hat) with his crew and their late model M10 Tank Destrover.

After returning to the U.S., he married the former Una Irene Dennis of Hobbs, NM, on April 21, 1946. She was the daughter of George Clay Dennis and Minnie Lee Mix. Over the years, the couple had three children, Andrew, Tommye and Shauna. Thomas went to work for El Paso Natural Gas and was involved in their pipeline work, necessitating numerous moves by the family in their trailer to remain close to the work sites. He retired from the company after 35 years and they made several more moves in Texas from Midkiff, to Graham and finally Midland in 1993. Later in life, he played guitar with the Ol' Sorehead Band.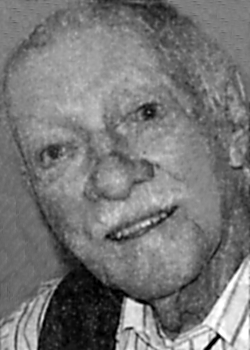 Thomas passed away on October 18, 2008, and was buried in the Resthaven Memorial Park-North, in Midland, TX. We would like to thank Brenda Cooper for providing information and the photos used in this tribute.