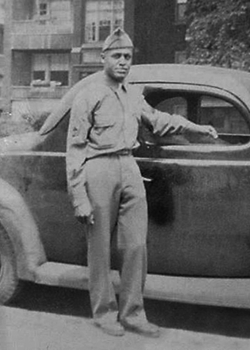 Clinton T. Walker, Jr.
Biography: Clinton Thomas Walker Jr. was born on May 25, 1913, in St. Louis, Missouri. He was the son of Clinton Thomas Walker Sr. and Hadassah Joiner and attended school in Hamtramck, Michigan and Chicago, Illinois, through the 10th grade. He left school to find a job to help his family and ended up as an assembly line worker at the Chrysler facility.
Service Time: Clinton entered the service on April 17, 1942, at Fort Custer, Michigan. After his basic training, he was assigned to Company B of the 614th Tank Destroyer Battalion and trained with them within the U.S., including Camp Carson and Camp Hood in Texas and took part in the Louisiana maneuvers. The unit had been activated on July 25, 1942, at Camp Carson, Colorado as a self-propelled unit utilizing half-tracks with 75mm guns. In May of 1943, they were reorganized as a towed battalion due to the poor showing of the self-propelled units early in the war.
The 614th shipped out from the New York port on August 27, 1944, and arrived in England on September, 7th. In just a month, they were loaded on transports and sailed for Normandy, landing on the Utah beachhead beginning on October 8th. The unit and their 3″ guns were deployed to Metz and supported operations against the nearby Siegfried Line in November and December. They then shifted to Hagenau Forest area and continued to support operations against Siegfried Line fortifications until late March, 1945.
The unit then performed occupation duties in early April, before joining the race to Innsbruck, Austria, and Brenner Pass. The 614th received credit for campaigns in Northern France, Rhineland the Ardennes and Central Europe. Clinton left the service at the rank of Sergeant.
Clinton returned home and worked as a mechanic in an auto shop and at some point, worked in a factory. In his spare time, he learned to fly small aircraft and became a pilot. He was also a ham-radio operator. On February 27, 1958, he married the former Eletha Elizabeth Dowdell, in Chicago. Eletha was the daughter of James Bonaparte Dowdell Sr. and Luella Elizabeth Perkins. The new couple would initially live in Hamtramck, MI, before moving to Detroit in 1966. Clinton and Eletha would have two daughters, Eletha born in 1958, and Elaine born in 1960, and one grandson, James Eric Johnson, Jr.
Never satisfied that he had not graduated from high school, Clinton was in his 60's when he studied and received his GED or High School Equivalency Diploma. Clinton passed away on February 15, 1983 and was buried in the Woodlawn Cemetery in Detroit, MI. I want to thank Clinton's daughter Eletha for providing the photo and information for this tribute.