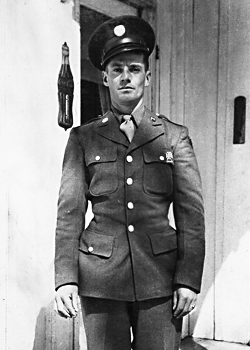 Raymond R. Wainscott
Biography: Raymond Rant Wainscott was born on August 4, 1915, in Jefferson County, Indiana. He was the son of William Stanley Wainscott and Theadosia Hamilton and attended school in Rickers Ridge, Jefferson County, and graduated from Lovett High School in Jennings County, IN. His enlistment record indicates he worked in some type of semi-skilled construction occupation but he also worked at the Charleston Powder Plant, which produced smokeless powder, and in 1940, it was the largest plant of its kind in the world.
Service Time: Raymond entered the service on December 14, 1942, at Fort Benjamin Harrison, IN. After his initial training, he was assigned to the Reconnaissance Company of the 811th Tank Destroyer Battalion. The unit trained at a number of facilities within the U.S including Camp Hood, Texas, Camp Carson, Colorado, the Desert Training Center in Needles, California, Camp Gruber, Oklahoma, and then to the Louisiana Maneuvers and Camp Claiborne and Camp Livingston in Louisiana. On June 18, 1943, while on leave from the unit, Raymond married the former Marie Mills, who was born in Bigger Township, Indiana, and was the daughter of Earl Mills and Bertha Shull.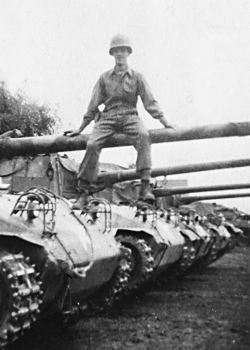 The unit traveled to Camp Miles Standish for final preparations before shipping out from the Boston port on September 5, 1944. They arrived at Cherbourg, France, on September 15th, equipped with M18 tank destroyers and moved to Luxembourg in November, participating in the Battle of the Bulge in December. The battalion was scattered widely with portions attached to many divisions into January, 1945.
The unit then supported operations against the Siegfried Line in February and in early March they advanced to the Rhine and finally crossing the river on the 30th. They supported the 80th Infantry Division in the capture of Kassel, Germany, and advanced to Erfurt and Chemnitz, Germany, in April. Moving south, they crossed the Danube River to Regensburg, entering Austria on May 5th.
Raymond received credit for each of the unit's campaigns including Rhineland, the Ardennes and Central Europe. He left the service at the rank of Private First Class.
Raymond returned home to his wife and son Raymond Lee, who was born on October 25, 1944. The couple would have two more sons, Karol, born in 1947, and James in 1950. The family made their home in Butlerville, IN, and Raymond worked for Arvin Industries in North Vernon, IN.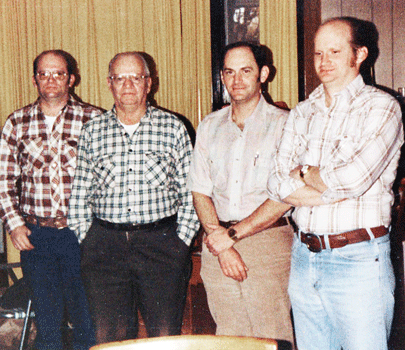 The photo at left was taken at Christmas, 1982. Shown left to right is Raymond Lee, Raymond, Karol and Mike (James).
In his spare time, Raymond enjoyed fishing and hunting and was a member of the Butlerville Baptist Church. He passed away on July 22, 2000, and was buried in the Vernon Cemetery in Vernon, IN. I want to thank Raymond's son, Raymond Lee, for providing the photos and information for this tribute.