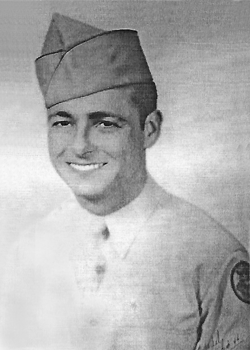 James W. Wilburn
Biography: James Willie Wilburn, "Bill", was born on October 10, 1918, in Greenville, South Carolina. He was the son of George Willey Wilburn and Effie Emory. The country was in the midst of a depression and times were hard. Bill was one of twelve siblings, so he was taught to work at a early age. In order to find work in the textile mills, the family moved a lot between Georgia, South and North Carolina and Virginia. This made it hard for the children to attend school consistently.
At about age 16, he left the family and went to St. Augustine, Florida, to work for his brother-in-law's bakery. This job allowed him to also attend school. When the bakery closed, he moved to Washington D.C., where one of his siblings lived. While there, he learned to drive a 16-wheeler.
Service Time: At age 23, Bill was drafted into the service and entered on June 18, 1941, at Richmond, Virginia. His civilian truck driving experience led to him being assigned to a tank destroyer battalion. They trained at a number of facilities throughout the U.S. including Camp Gruber, Oklahoma, Camp Robinson, Arkansas, and Camp Hood, Texas. They utilized both trucks and trains to travel.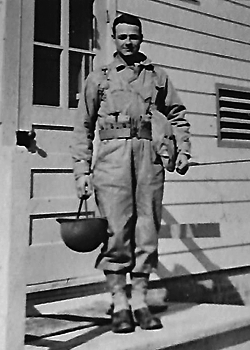 While being moved by troop train, he was accidentally shot in the leg and was taken off the train for medical treatment. His unit continued on during his recuperation and he was considered "misplaced" from his unit. When he was well enough to return to duty, he was sent to the Desert Training Center. Bill was eventually assigned to Company B of the 809th Tank Destroyer Battalion and was sent to Camp Kilmer, New Jersey, on November 20, 1944. They shipped out from the New York port on the 30th.
The unit arrived in Liverpool, England, on December 8th and just over a month later, they boarded transports and arrived at Le Havre, France, on January 20, 1945. The 809th was equipped with M18 tank destroyers and supported the Roer River crossings in late February, 1945. They crossed the Rhine River on March 27th, supporting operations against the Ruhr Pocket in April and converted to M36 tank destroyers that same month. They finally helped clear the Harz mountains in late April and received credit for the campaigns of Rhineland and Central Europe.
After returning to the U.S., Bill received a 30-day furlough. It was during this period that he would meet his future wife, Peggy. He was visiting his parents, who were living in North Carolina, at the time. Bill was then sent to Camp Beale, California, in anticipation of being called on for service in the Pacific against the Japanese. While at Camp Beale, he served as a personnel driver, making regular trips to the San Francisco port of embarqment. Bill was discharged on November 11th, at the rank of Technical Sergeant.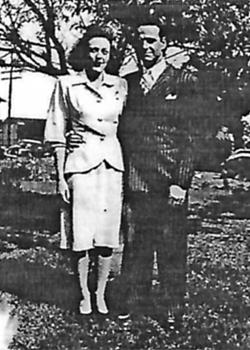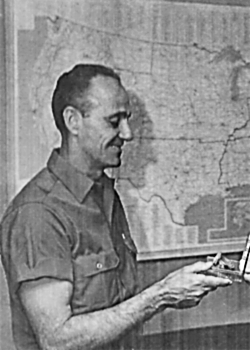 The photo at left shows Bill and Peggy after they were married. The photo at right shows Bill receiving his "Truck Driver of the Year" award in 1963.
Bill returned to his career as a truck driver in the D.C. area where he transported military service families, moving across the country. He continued to work as a contract trucker in the moving industry for 30 years. On September 28, 1946, he married the former Peggy Sue Sloop who was born in Salisbury, NC, and was the daughter of Ray A. Sloop and Zena Peeler. The new family would reside in the Falls Church and Springfield, Virginia areas, raising two daughters, April Susan, born in 1949, and Robin in 1956. They later moved to Lakeland, Florida, and Bill continued to work in the trucking industry until the end of 1978. In his spare time, he enjoyed spending time with his family, camping. and loved the ocean.
Bill passed away on March 7, 1979, and was buried in the Oak Hill Cemetery in Lakeland, FL. I want to thank Bill's wife, Peggy, for providing the information and photos in this tribute.