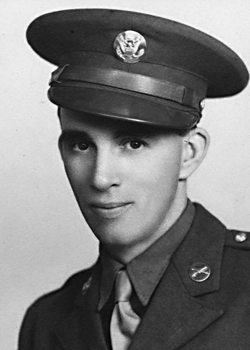 Harold O. Warburton
Biography: Harold Oscar Warburton was born on February 9, 1911, in Plummer, Kootenai County, Idaho. He was one of two sons and three daughters born to Joseph Wesley Warburton and Callie Jane Rader. His enlistment record indicates he had completed one year of high school and was working as a carpenter when he entered the military.
Service Time: Harold entered the Army on March 17, 1942, at Fort Lewis, Washington. On March 23rd, he was assigned to and joined Company D of the 607th Tank Destroyer Battalion at Ford Ord, California. Company D was later re-designated at Reconnaissance Company and Harold was transferred to Headquarters Company sometime in the 2nd half of 1943.
He trained with the unit at a number of locations including: Fort Ord, Camp San Luis Obispo, Hunter Liggett Military Reservation and the Desert Training Center, all in California, along with Camp Hood, Texas and Camp Cooke, CA. Harold was promoted to Private First Class (PFC) on July 12, 1943. While they originally trained with M10 tank destroyers, the unit was converted to a towed battalion, utilizing the M5 3" anti-tank gun, on December 15, 1943.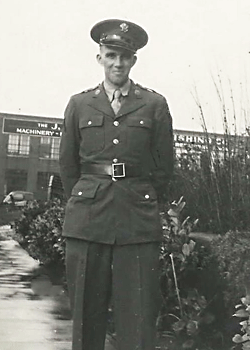 Arriving at Liverpool, England, on April 21, 1944, they continued training. Company C landed at Utah Beach, Normandy, France on June 24th and the 607th supported the advance on Cherbourg, fighting along the Seves River in July.
On July 13, 1944, PFC Warburton was seriously wounded in action at La Fevrerie, France. He was transferred to the 315th Medical Battalion but died of those wounds the same day. There is no information in the unit records about the circumstances of this incident.
Private First Class Harold O. Warburton was buried in the Normandy American Cemetery and Memorial, Colleville-sur-Mer, Normandy, France in Block D, Row 8, Grave 43. We would like to thank PFC Warburton for making the ultimate sacrifice for his country. We would like to thank Harold's niece for use of the photos showing him in uniform. Thank you to Find-a-Grave member Laura Phillips for use of the grave marker photo.