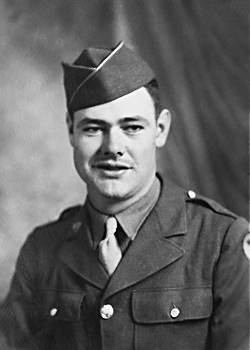 Charlie D. Worthington
Biography: Charlie Demearl Worthington was born on September 2, 1920, in Silver Creek, Georgia. He was the son of Claude Demearl Worthington and Dora Louise Fricks and attended Floyd County schools through the eighth grade.
After leaving school, Charlie worked for the Lindale Cotton Mill in Lindale, GA. His enlistment record indicates he was involved in the manufacture of textiles and specifically the measuring of cloth remnants and the running of a brusher machine, which removed lint from cloth.
Service Time: Charlie entered the service at Fort McPherson, GA, on December 16, 1942, and began his active service on the 28th. He was sent to Fort Hood, Texas for basic training and was then assigned to Company A of the 807th Tank Destroyer Battalion. He trained with them at a number of facilities within the U.S., including Camp Gruber, Oklahoma for advanced training. It was during his training that he qualified as an Expert with the rifle and transitioned from a cannoneer to assistant driver and radio operator. From Camp Gruber they were sent to participate in the Louisiana maneuvers at Camp Polk, LA, in September of 1943.
It was during 1943, that while on leave, Charlie married the former Opal Lee Highfield. Opal was the daughter of Melvin Mathue Highfield and Beddie Beatrice Tommie.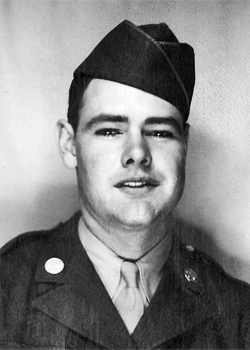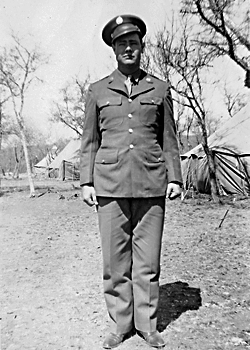 They were then sent to the Desert Training Center and later to Fort Dix, New Jersey, for final preparations for shipment overseas. Charlie actually went AWOL (absent without leave) for three days prior to shipping out. The unit finally shipped out from the New York port on August 11, 1944, arriving in Liverpool, England, on August 23, 1944. Less than a month later, they boarded transports and landed at Utah Beach on September 18th, equipped with towed 3″ anti-tank guns. As a radio operator, Charlie had the responsibility to install and operate the tactical field radio and receiving equipment. He was required to both send and receive messages in Morse Code as well as light signals.
The 807th fought in the Metz, France, sector from September to November and attacked toward Saarlautern, Germany, in November and December. They battled the German Nordwind offensive in January, 1945, and then shifted north for offensive actions to the Rhine River in March. It is interesting to note that while serving in France, Charlie was able to meet his brother Claude, "Buddy", who was serving with an Infantry Division, which was also stationed in France. His brother Andrew also served during WWII as an MP (Military Police).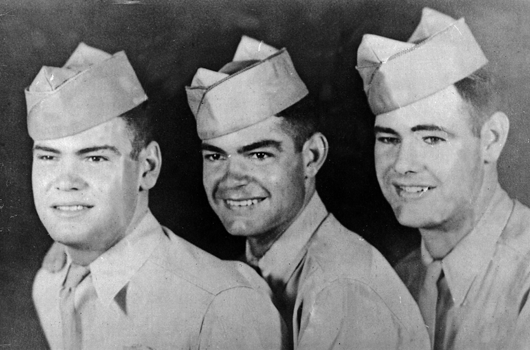 The three brothers can be seen in the photo above. L to R is Claude, Andrew and Charlie.
The unit defended the Rhine bridges in April and converted to M18 tank destroyers in time to join the drive through Bavaria late in the month. They finally reached the vicinity of Salzburg, Austria, in early May. Charlie received credit for two of the unit's campaigns, Rhineland and Central Europe and was awarded the EAME, American Theater and Good Conduct Medals. He shipped home on July 7th and arrived back in the U.S. on the 16th. He was briefly assigned to the Towed Gun and Field Artillery Detachment at Fort Hood but left the service a few months later on October 27th, at the rank of Private First Class.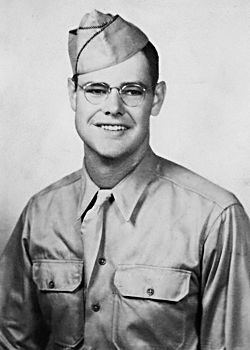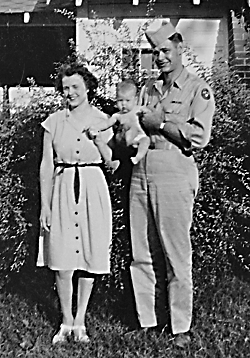 Charlie returned to his family, which now included a little girl, Elaine, born while he was overseas. A second daughter, Kathy and a son Ray, were born later. He went back to work for the Lindale Cotton Mill and remained with them for over 40 years as a supervisor. In his spare time, Charlie enjoyed hunting and gardening and was a member of the First Baptist Church of Lindale but also attended the Second Avenue Baptist Church.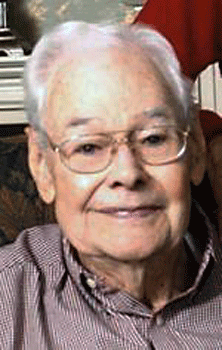 After the death of his beloved Opal in 1976, he married the former Gwendolyn Muriel Ezzell, on May 7, 1977. Charlie passed away on July 15, 2012, at the age of 91, and was buried in the Oaknoll Memorial Gardens Cemetery in Rome, Georgia. I want to thank Charlie's grandson, Jeffrey Stone, for providing the information and photos for this tribute. Jeffrey also interviewed his grandfather on January 28, 2006, and has posted it on YouTube. You can view it at the link shown below on left.