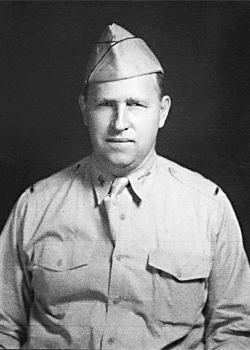 Robert U. Winters, Jr.
Biography: Robert Ulney Winters, Jr., "Bob", was born on August 30, 1908, in the family home, in rural Rosamond, Illinois. He was the son of Robert Ulney Winters and Minerva "Minnie" Marvin Putnam and attended Rosamond Elementary, and then graduated from Pana High School.
He continued his education at the University of Illinois, School of Agriculture, taking part in their Caisson and Agricultural Engineering Clubs, the Phalanx Fraternity and Alpha Tau Alpha, which is a Agricultural Education Organization. He also played football on varsity teams in his sophomore and junior years. Bob was also in the school's ROTC program and was the Captain of the University Brigade.
He graduated in 1933, and returned home to farm a 40 acre property which adjoined his parents home. He also served as an officer in the Army Reserves and was assigned a command in the CCC (Civilian Conservation Corps). In his civilian life, he was employed by Allis Chalmers as a field technician and just prior to the war, he was an agriculture teacher and football coach at Iilliopolis High School.
Letter to Helen while serving at CCC Camp – July 24, 1935
On August 11, 1935, Bob married the former Helen Florence Steele who was born in Dover, IL, and was the daughter of Forest George Steele and Georgia Mae Baker. The couple would have three children, Robert III, born in 1936, Raymond in 1937 and Carol in 1939.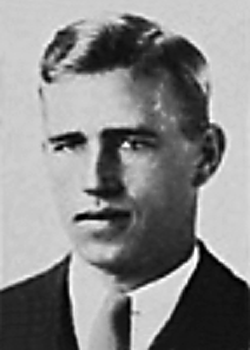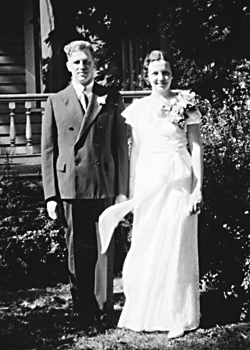 Service Time: Bob was called out of the Reserves and initially stationed at Fort Sill, Oklahoma, on February 28, 1942. In April, he was assigned to the 609th Tank Destroyer battalion, which had been activated at Fort Bragg, North Carolina, eight days after Pearl Harbor was attacked. Bob served as the unit's S1, or Personnel Officer, with duties including handling of the human resource information of all soldiers which entailed tracking personnel readiness, personnel services and headquarters management. At the time, he held the rank of First Lieutenant.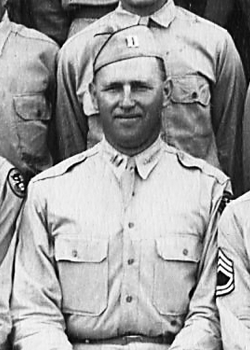 The 609th would continue to train at Fort Bragg until moving to Camp Hood, Texas, in January of 1943. Bob was chosen to command Company C of the 130th Tank Destroyer Training Battalion and promoted to Captain in preparation of his new position. The 130th prepared soldiers for service in one of the main tank destroyer battalions. His family followed him to each new assignment and Bob and Helen would welcome a fourth child, Rosemary, born in 1943.
Even after his duties with the 130th ended, he remained at Camp Hood as a Personnel Staff Officer at the Tank Destroyer School. During his time in the service, he had attended the Field Artillery School, the Command and General Staff Collage, the Adjutant General School and of course, the Tank Destroyer School. He left active service on December 16, 1945, at the rank of Captain.
Bob returned to Illiopolis and to teaching agriculture as well as math and science. He also used his college football experience to help the school's team as an assistant coach. He taught at a number of schools, including Durand High School, Marshall Jr. High in Machesney Park, IL, and Lincoln Jr. High in Rockford, IL. He was also a 4-H leader and FFA (Future Farmers of America) club leader, President of the Winnebago County Farm Bureau and a member of the Shirland United Methodist Church. He was a Pioneer Seed dealer for 30 years as well. Bob and Helen would have two more children, Cynthia, born in 1946, and David in 1952.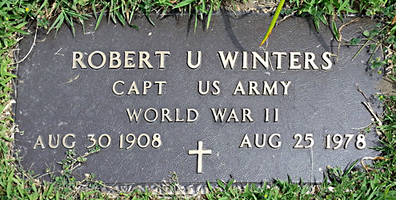 Sadly, on August 25, 1978, Bob was killed as the result of a farming accident. He was buried in the Shirland Cemetery in Shirland, IL. I want to thank Bob's son, Robert III, for providing the information and photos for this tribute. Thank you also to Find A Grave contributor, Dale Andrew Wishop, for the use of the grave marker photo.