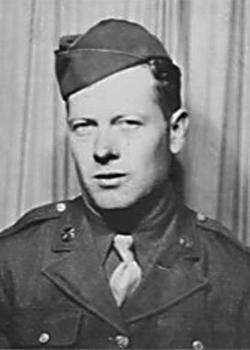 Frank S. Wilson
Biography: Frank Sims Wilson was born on May 22, 1917, in Stockbridge, Georgia, He was the son of Wiley Sims Wilson and Nola Odessa Hemperley and attended schools in Stockbridge through the grammar levels. He then worked as a farm laborer and as an office clerk.
Service Time: Frank entered the service on November 10, 1941, at Fort McPherson in Atlanta, GA. After his initial training, he was assigned to the 626th Tank Destroyer battalion and trained with them at a number of military facilities including Camp Edwards, Massachusetts, A.P. Hill Military Reservation in Virginia and briefly at Fort Meade, Maryland, before traveling to Camp Hood, Texas and their Advanced Unit Training Center. While there, they received high marks in tank hunting and physical fitness as well as tactical efficiency in field problems and exercises.
They remained at Camp Hood until April 1943, when the unit departed for Camp Gordon, Georgia. In June, the men were loaded on trains bound for maneuvers in Tennessee and remained there for the next two months. They returned to Camp Gordon and then moved to the Carolina maneuver area for additional exercises before moving back to Camp Gordon again.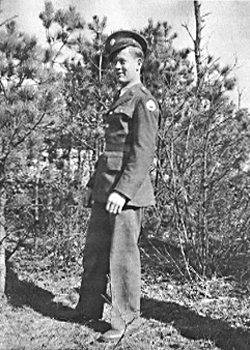 Even with their remarkable performance during training, the 626th was marked for inactivation and was deactivated on December 20, 1943. Frank was reassigned to 1st Platoon, C Company of the 691st Tank Destroyer battalion, which continued their training until shipping to England on July 25, 1944. They arrived in Liverpool on Augist 3rd and boarded LSTs on the 25th, arriving on Utah Beach on the 27th. The unit would see action in Lorraine in September. They were then transferred to the Ardennes in December.
The photo on left was taken while Frank was at home on leave from the 626th.
On December 6th, the unit joined the 6th Armored Division with the mission to hold the line above Forbach, France. It was on the 14th that Technician 5th Grade, Frank S. Wilson was killed in action in the vicinity of Morsbach, (Moselle Department) France. We do not have detailed information of the incident that would take Frank's life but reports indicate that C Company was under artillery fire throughout the time period and on many occasions, German troops were very close, to the point that they could be heard talking. In addition to Frank, Pvt. Everett R. Newman was killed on the 10th and Pfc. Walter F. Graham was severely injured on the 14th and later died of his wounds on the 25th.
The 691st would join operations in the Saar region in February and March of 1945, and convert from towed 3″ anti-tank guns to M36 self-propelled tank destroyers later in March. They moved across Germany, reaching Limbach in April and received credit for campaigns in Northern France, Rhineland, the Ardennes and Central Europe. Frank would have received the Purple Heart posthumously.
Frank was temporarily buried overseas and his body was brought home in 1946 to be buried in the Noah's Ark Church Cemetery in Jonesboro, GA. I want to thank Frank's niece, Dorothea, for providing the information and photos of Frank used in this tribute. I also want to thank Find A Grave contributor, Rhonda Brady Rampy, for the use of the grave marker photo.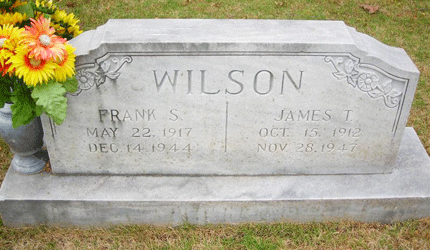 In addition to Frank, his three brothers James, Raymond and Leon also served in the military during WWII. James or "J.T", served in the Navy, surviving the war but sadly passing away in 1947. He was laid to rest, next to Frank. Raymond served in the Infantry, in the Pacific, and brother Leon served in the Army as well.
Dorothea has written a book documenting her uncle's military service along with their lives growing up in rural Georgia. The book titled, "Sorgum, Jule, and Horsefly: A Memoir. A History" is available through Amazon. Just click on the book's title to follow the link for purchase.