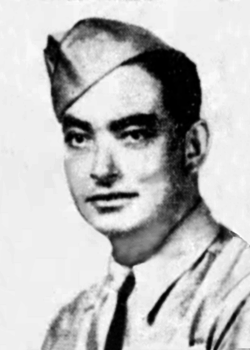 William J. Walters
Biography: William Jonah Walters was born on August 5, 1921, in Kingstree, South Carolina. He was one of four sons and four daughters born to William James Walters and Effie O. Williams.
He completed one year of high school and his draft card indicates he was employed at the Armour Packing Company in Charleston, South Carolina.
Service Time: William entered the Army on September 12, 1942, at Fort Jackson, Columbia, SC. At some point after his initial training, he was assigned to the 3rd Platoon, Company B, of the 628th Tank Destroyer Battalion.
The unit was formed from the 28th Division Anti-tank Battalion during the Carolina Maneuvers and then moved to Indiantown Gap Military Reservation in Pennsylvania, where they were reorganized as the 628th Tank Destroyer Battalion. From there they moved to Camp Livingston, Louisiana, Camp Hood, Texas and then Camp Bowie, Texas, receiving critical training at each facility. They then moved to Camp Gordon Johnston, Florida, where they received amphibious training in the Gulf of Mexico.
The 628th moved back west to Camp Rucker, Alabama, in preparation for the Tennessee Maneuvers which were held in July and August of 1943. They received additional training at Camp Pickett and Camp Bradford in Virginia. The unit then moved to Camp Dix, New Jersey, for final preparations prior to leaving for Europe and then on to Camp Shanks, New York, where they awaited shipment overseas.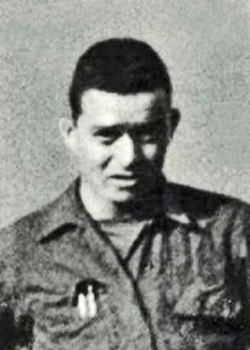 The unit shipped from the New York port of embarkation on January 29, 1944, on the Aquitania, and arrived at Greenock, Scotland, on February 6. They disembarked at Utah Beach on July 30, equipped with M10 tank destroyers and were committed to battle on August 2 near Perier, France. Participating in the envelopment of the Falaise Pocket, they dashed east to the Belgian border, arriving on September 2 and helped liberate Luxembourg. They began an assault on the Siegfried Line on September 13 and conducted artillery missions in October. The 628th converted to M36 tank destroyers (TD) in November and were committed to fighting in the Hürtgen Forest in December.
In early January, 1945, the 628th was supporting the 82nd Airborne Division in Belgium. On January 7th, the TD William served on was moving from Goronne, Belgium towards Rencheux and firing on a retreating German Mk VI tank when they were hit on the flank by enemy anti-tank fire. Attempting to recover their vehicle, gun commander Sgt. Lawrence Elmore and T/5 William J. Walters were both killed when a direct hit from the enemy gun penetrated their TD. William was awarded a Silver Star medal and posthumously awarded a Purple Heart with Oak Leaf Cluster.
T/5 William Jonah Walters is memorialized on the Tablets of the Missing at the Ardennes American Cemetery and Memorial, Neuville-en-Condroz, Arrondissement de Liège, Liège, Belgium. We would like to thank William for making the ultimate sacrifice for his country. Thank you to Find a Grave contributor Dave Hansen for use of the Tablets of the Missing photo.