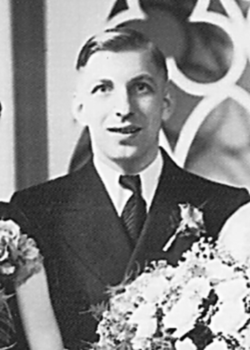 Hubert Winker
Biography: Hubert Winker was born on January 21, 1910, in Spaichengen, Germany. He was the oldest of three sons (brothers Berthold and Ewald) born to Karl Winker and Marie Hauser. The family immigrated to the U.S., in 1926, and settled in St. Louis, Missouri. In the 1930 census, dated April 9th, Hubert is listed as working as a laborer in the automotive industry but on October 16th of that same year, his draft card lists him as working for Kilgen Associates, Inc. Kilgen was a family-owned pipe organ builder in St. Louis.
Although Hubert was listed as an alien on the census, it also records that he had his "first papers" or his Declaration of Intention, which indicates he had started the process to become a U.S. citizen. Joining the Army was considered a fast-track to citizenship because it greatly sped up the process.
The photo above shows Hubert in 1936, at the wedding of his brother Berthold to Rosel Schellinger. Hubert served as Best Man for the ceremony.
Service Time: We have limited information relating to Hubert's time in the military but the St. Louis Star and Times for October 16, 1942, confirms that he was serving with the Reconnaissance Company of the 899th Tank Destroyer battalion. The 899th had started its life as the 99th Antitank battalion at Fort Lewis, Washington and was redesignated as the 899th Tank Destroyer battalion on December 15, 1941.
As identified by an article from the St. Louis Post-Dispatch from February 20, 1941, Hubert had entered the service as part of the Selective Service Act and was one of 138 men from St. Louis that were inducted on February 21, 1941, at the Jefferson Barracks in St. Louis. From there, he and the other men would travel to Camp Robinson in Little Rock, Arkansas. for one year of training. We are unsure of his movements after his time at Camp Robinson but we do know that a year and a half later, around August of 1942, he was stationed at Camp Hood as part of the 899th. Another article from the St. Louis Post-Dispatch, dated October 15, 1942, identifies that he had been at the camp for the last several months, so he may have joined the 899th while they were still stationed at Fort Lewis. The 899th had previously trained at both Fort Lewis and Hunter Liggett Military Reservation in California before moving to Camp Hood in 1942.
Newspaper Article – St. Louis Post-Dispatch Feb 20, 1941
On October 12, 1942, Private Hubert Winker was killed during maneuvers at the camp. The Carroll Daily Times Herald, states that the incident was identified as an accident but did not provide any information as to how it happened.
Newspaper Article – St. Louis Post-Dispatch, Oct. 15, 1942
Newspaper Obituary – St. Louis Star and Times, Oct. 16, 1942
The details of his death have always been a mystery to the family and their inquiries to the Army about the incident have remained unanswered. A more recent discovery of Hubert's Death Certificate indicates that he received a gunshot wound to his chest, which perforated his heart, causing his death. Although the death was identified as a homicide (the killing of one person by another), we have no way to determine the full circumstances. The Death Certificate also identifies that the event happened in the 899th's area of control and the unit's doctor, Captain Arthur Magrin (sp), signed the death certificate.
Injuries and death's during training were a tragedy but not an uncommon occurance since at least a portion of their training involved live ammunition. We honor Hubert for his willingness to serve and his ultimate sacrifice for his adopted country.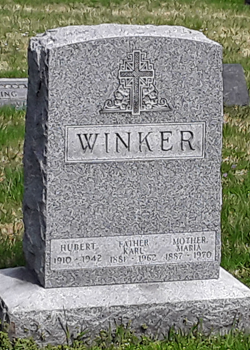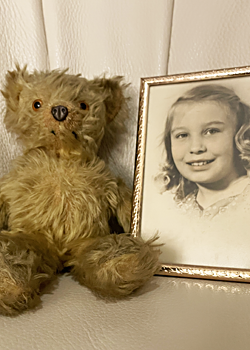 Hubert was brought back to St. Louis and buried in the Calvary Cemetery in St. Louis, MO. As shown on the grave marker, both his parents were later buried at the same location. The photo above right shows a stuffed bear given as a gift by Hubert to his niece, Carola (shown in the photo), in 1939.
I want to thank Hubert's great-niece, Maggie (Carola's daughter), for providing photos and documents used in this tribute. Thank you also to Find A Grave contributor "Seeking Rainbows" for use of the grave marker photo.