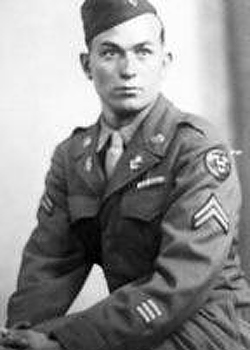 William T. Walker Jr.
Biography: William T. Walker Jr. "Bill" was born on March 22, 1925, in Wheeler County, Georgia. Specifically, he was born on the farm of his great-great-grandparents, Frank P. and Georgianna M. McCullough. He was the first of four children born to William T. Walker Sr. and Lois Inez Skelton.
He was raised on a farm and spent most of his early life working as a farm laborer, starting out at 50 cents per day, picking cotton & doing whatever necessary because work around a farm is never done.
In 1933, his father, who was a WWI veteran, decided to move to Bill's grandmother's homestead near McRae Georgia where there was a CCC (Civillian Conservation Corps) Camp. The workers were going to build the Little Oak Mulgee State Park nearby. Veterans were paid a $1.00 per day, plus room and board. The family lived in a house on his grandmother's farm.
It was only a short time before Bill's parents divorced and the family was split up. Bill went to stay with his uncle Ed and the two middle children, to other relatives. His mother would keep the youngest child, which was still a baby. Uncle Ed had three boys of his own and a very large farm and Bill and the other boys went to school together and worked the farm.
Bill attended Wheeler County High School and when Pearl Harbor was bombed, Sunday morning, December 7, 1941, all the boys near and above 18 years of age wanted to enlist into the service. Bill was 17 at that time, but when he looked into joining the military, they told him that he would be drafted as soon as he became of age in March.
Service Time: Bill was inducted into the Army at Fort McPherson, GA. near Atlanta, and after a few days going through the Induction Center, he was sent by train to Camp Hood, Texas, for training at the Tank Destroyer Training Center. This was the first time he had been away from home and he remembered that he didn't know any one, he was in a strange environment with free food, clothes and $30.00 per month to spend as he wished. It was thirteen weeks of making his own bed, doing his own laundry, inspections, heat like he never has felt, doing KP, guard duty, firing range and what ever they decided the men needed to become soldiers.
Bill was assigned to B Company of the 644th Tank Destroyer Battalion and functioned as a gunner on a TD. They trained at a number of military facilities within the U.S. and then shipped out from the New York port on January 2, 1944. They arrived at Gourock, Scotland, later that month, on the 11th. For the next six months, the unit would receive additional training and preparations for operations in France. They boarded transports and landed at Utah Beach on July 11th and 12th, equipped with M10 tank destroyers.
They were committed to battle, south of Le Haye Du Puits, with the 8th Infantry Division on July 15th, participating in the Cobra breakout, beginning on the 26th. Advancing into Brittany in August, they helped capture Brest in early September and then moved to Luxembourg in late September, fighting in the Hürtgen Forest in November. Companies A and C moved to the northern Ardennes sector by early December and participated in the Battle of the Bulge, with Company B arriving later. The 644th joined in the elimination of the Bulge in early 1945 and the Roer River offensive in February.
They reached the Rhine south of Cologne in March and crossed the river at Remagen and supported the reduction of the Ruhr Pocket in April. Swinging eastward to the Elbe River, they rolled toward the Baltic coast with the 82d Airborne Division, stopping in Schwerin. The unit received credit for campaigns in Normandy, Northern France, Rhineland, the Ardennes and Central Europe. Bill received the Purple Heart and was able to wear the fourragère, signifying the unit's award of the Croix de Guerre.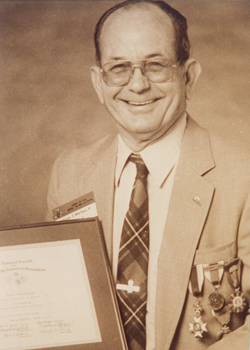 After returning home, he worked as a fireman, shoveling coal on the last steam engines in Polk County, GA. He then worked as a mechanic at M.P. Tomlinson Cadillac and later he worked for himself as a Snap-On tool dealer. He married Annie and the couple would have two daughters, Shirley and Carol.
He was a 32nd Degree Mason and worked with his state Representative, Quillian Yancey, to create a Purple Heart license plate for the State of Florida.
Bill passed away on November 4, 2016, and was buried in the Lakeland Memorial Gardens in Lakeland , Florida. I want to thank Bill for providing the photos and information for much of this tribute.