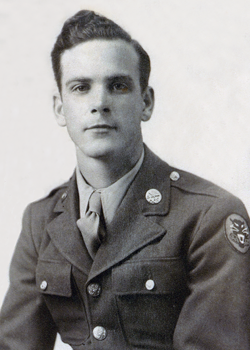 Daniel H. Wilshire
Biography: Daniel Harold Wilshire was born on June 21, 1916 in Patton, PA. He was the son of Albert Wilshire and Julia Link and attended both grade school and high school in Patton. After graduating in 1933, he worked as a grocery clerk at the local A&P store.
In 1940, Daniel married the former Delilah June Whitehead. She was the daughter of Thomas and Sara Whitehead of Brisbin, PA. The couple would reside in Patton, PA and have one son, Daniel born in 1944 and adopt a daughter Cheryl, born in 1950.
Service Time: Daniel entered the service on December 7, 1942 and was assigned to the Headquarters Company of the 691st Tank Destroyer Battalion. He was trained as a radio operator and left the service a Technical Sergeant.

When Daniel returned from the service, he went back to work at the A&P store, eventually becoming manager of the Patton store. In his spare time, he enjoyed many outdoor activities including hunting, fishing and photography. He also loved listening to a ball game when his favorite team, the Pittsburgh Pirates, were playing.
Daniel was a proud member of the VFW, Eagles, American Legion, Moose Club, Sons of Italy and the Patton Fire Department. He passed away on November 10, 1989 and was laid to rest in the Patton Fairview Cemetery.
I want to thank Daniel's son Dan and grandson, Pat for providing this information and photo.