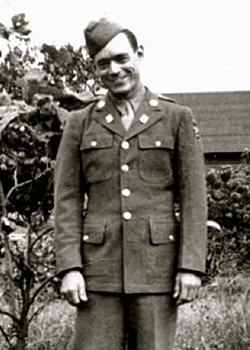 James R. Whitehead
Biography: James Richard Whitehead was born on August 16, 1919 in Burnet, TX. He was the son of Henry Harvey Whitehead and Minerva Ann Smith and attended local schools in Burnet. James' father had preached the Gospel from horseback in the frontier days of Texas. Growing up with such a heritage, James became a true cowboy and loved the rodeo. His enlistment records identifies that he worked in livestock farming prior to entering the service.
Service Time: James enlisted on August 24, 1942 at Fort Sam Houston in Texas and was assigned to Company A of the 773rd Tank Destroyer Battalion. The unit shipped to England in January of 1944 on the troopship Aquitania. Portions of the 773rd assisted with the preparations for the D-Day assault on Normandy, France. The 773rd itself would land some time later on August 8, 1944.
On August 17, they entered combat at the southern tip of the Falaise pocket, just outside Argentan, France. In a combined attack on the town of St. Leonard, elements of A, B and C companies along with the 359th Infantry advanced into the town under heavy mortar and artillery fire. Company A was able to knock out five German Mark IV tanks, but this gain did not come without loss. Two men, including James, were killed and 12 men were wounded. He was awarded the Purple Heart.
The following letter was sent to James' niece Grace who was only two years his junior. Grace told her son that James was like a big brother to her. The letter, which was sent with a Christmas card in late 1943, was only discovered in 2007 still in the card. James was waiting to ship overseas from the U.S. when he was writing and mentioned that the day was rainy, explaining the ink stains. This would be the last letter Grace would receive from him. Page two is a typed and slightly edited version of the letter to make it easier to read.
Letter from James – December 1943
I want to thank James and the Whitehead family for the supreme sacrifice they gave for this country. I want to thank James' great nephew, Clayton for providing this information and photo.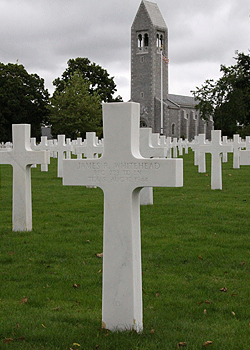 Pfc. James R. Whitehead was laid to rest at the Brittany American Cemetery in St. James, France – Plot E, Row 15, Grave 13. The photo of his grave and marker shown to the left was taken by Facebook friends of by my good friend Ben Savelkoul of the Netherlands. Both I and the Whitehead family thank all of you for providing this image.