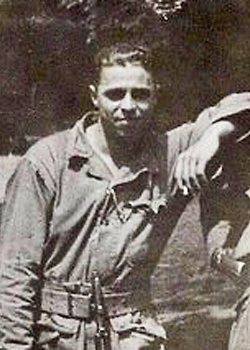 James W. Walker
Biography: James W. Walker was born on January 4, 1918, in Hall County, Georgia. He was the son of James Harris Walker and Margaret Melvinia Stallings. After leaving school, James worked as a farmhand.
Service Time: James entered the service on August 25, 1942, at Fort McPherson, Georgia. He was initially assigned to Company D, of the 29th Infantry Training Battalion, before leaving for Camp Hood and assignment to B Company of the 803rd Tank Destroyer Battalion. The 803rd departed the U.S. in June, 1943, on the Queen Mary and arrived in England on July 6th. After additional training, the unit crossed the channel and landed at Omaha Beach, on June 13, 1944. Their initial engagement was at St. Clair, France but a month later they saw heavy resistance at, the now famous, St. Lo. It was during this action that James distinguished himself by pulling his tank destroyer into an intersection to knock out an enemy tank. Even after the TD received a direct hit, he managed to leave the vehicle and guide it to a covered position. He was awarded the Silver Star for Gallantry. Sadly, it was during this same action that his commanding officer was killed.
The 803rd went on to the Siegfried Line and operations in Aachen and the Hurtgen Forest and then back to the Siegfried Line again and were committed to the Ardennes just before the German offensive. They helped capture Trier and joined in operations at the Ruhr pocket, ending up in Czechoslovakia. The 803rd, as well as James, received credit for the campaigns of Normandy, Northern France, Rhineland, Ardennes-Alsace and Central Europe.
James left Europe on November 6, 1945 and arrived in the U.S. on the 13th. He was discharged 7 days later at Camp Gordon, GA, at the rank of Sergeant. Among the items that he brought home was a German P38 pistol, a pair of 10 x 50 binoculars and a Zeiss Ikon camera. He also had a few of the Nazi armbands and several uniform insignias.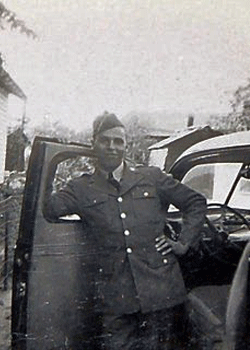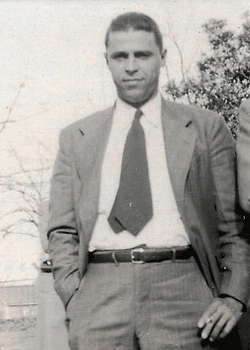 James went back to work at what he knew best, farming, and turned those skills he had learned into a career at a USDA Research Station. In May of 1948, James married the former Janette Fambrough. She was the daughter of Herbert Fambrough and O'Ree Robison. The couple resided in Watkinsville, GA, and had one daughter, Joyce Walker Baugh. James passed away on March 8, 2002, and was buried at the Antioch Christian Church in Watkinsville, GA.
I want to thank both James' daughter, Joyce, and her husband Charlie for providing the information and photos for this article.
In addition to the above information, Joyce and her husband have done extensive research on James' time in the military through various official documentation. They have compiled a spreadsheet timeline which applies to both James and the 803rd.