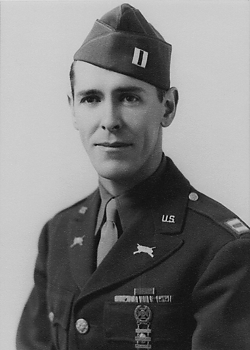 Franklyn H. Walls
Biography: Franklyn Hilleary Walls was born in November of 1908 in Zanesville, OH. He was the son of James F. Walls and Ida L. Hilleary and graduated from Lash High School in 1928. Frank, as he was known, went on to attend Ohio State University and was involved in their ROTC program until he graduated in 1932. He went into active service for a short time after leaving school and then worked for the U.S. Department of Agriculture. He was also a Reserve Officer during this time.
Frank married the former Dorthy S. Selke who was the daughter of Chris F. Selke and Julia A. Doyle. Dorthy was born in New Castle, IN. The new couple had a son, Douglas, born in 1940.

Service: After leaving school, Frank started his career in the military by serving as a lieutenant in the 5th Corps, Infantry Reserves. In the months leading up to the hostilities at Pearl Harbor, he transferred to the Armored Infantry as a regular duty officer and trained at Ft. Knox, Kentucky. During his military career, Frank qualified as an Expert with five weapons, Sub-Machine Gun, 50 Caliber Machine Gun, 45 Cal. Pistol, M-1 Rifle and M-1 Carbine.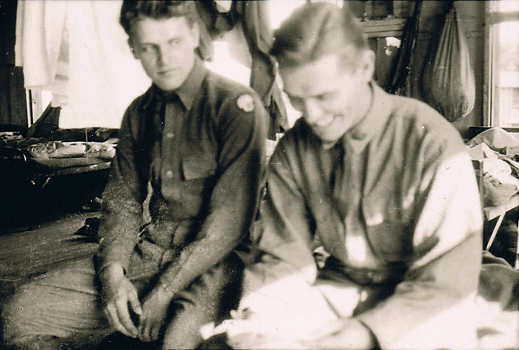 The photo to the left shows Frank, sitting at right, during some of his early training.
Shortly after Pearl Harbor, in January, 1942, he was placed in the 701st Tank Destroyer Battalion and began training with the unit. Midway through 1942, they shipped out for Ireland, and Frank was promoted to Captain. His battalion then joined the fight in North Africa.
While in Tunisia, Frank served as Adjutant for the unit, which saw action at the battle for Sened Station, Sbeitla, El Guettar and Mateur. During this series of battles, he received two Bronze Stars and the Legion of Merit medal for his actions. He received the Purple Heart for a gun shot wound to the left shoulder while at Mateur. The wound resulted in the bullet being left in his body, as it was too close to his heart.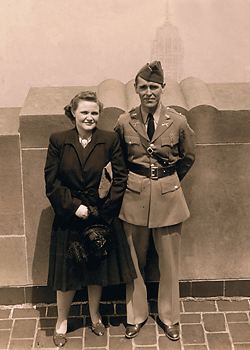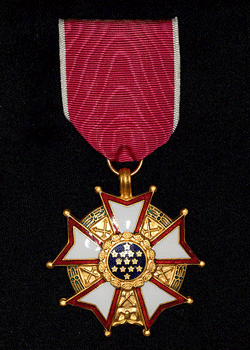 The photo above left shows Dorthy and Frank on what I believe to be the top of a sky-scraper. You can see the faint image of the top of another building in the background. The photo was probably taken while he was on leave or maybe just before he shipped the the E.T.O. The right photo is the Legion of Merit Award, which he received during his time overseas. The Legion of Merit is the sixth in order of precedence of all U.S. Military Awards.
Frank was sent stateside to recover and as soon as he was able, he was transferred to Camp Hood, TX, where he became a tactics instructor. He thought he wouldn't be returned to combat, given the nature of his wound, but in late 1944, the US Army promoted him to Major and sent him back to Europe. He was assigned to the 68th Armored Infantry Battalion, part of the 14th Armored Infantry Division. Frank served as an S-3 Operations officer with the 68th, crossing the Rhine River at Worms, Germany.
Once again, at Volkersleier near Hammelburg, Frank was wounded, this time as the result of grenade fragmentation and a gunshot wound to the head. He and his Staff Sergent were taken prisoner, by the depleted and retreating German army, but were able to escape from the POW lines before being transferred to a camp. Major Walls received another Purple Heart, as well as two more Bronze Stars, for his actions in France and Germany.
Frank left the service and returned home to New Castle, Indiana, finding work as a history and geography teacher. He later worked for the State of Indiana as a State Auditor until his retirement. He and Dorthy had another son, Stephen, born in 1944. Some of Frank's favorite pastimes included hunting, shooting and horsemanship. He was also a member of the Elks Club. In June of 1979, Frank succumbed to a heart attack and passed away, surrounded by his family. He was buried in New Castle, IN, and will always remembered as a hero by the people of his hometown.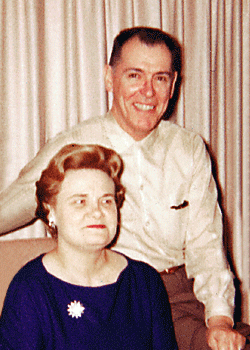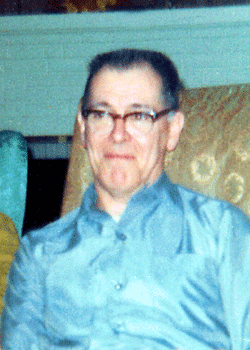 The photo above left is Frank and Dorthy, probably taken around 1962. The right photo was taken about 1967. I want to thank Frank's grandson, Erich, for providing the information and photos for this tribute.