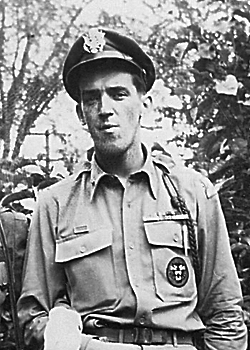 Thomas P. Welch
Biography: Thomas "Tommy" Peter Welch was born on May 31, 1921, in Geneva, NY. He was the son of Harold Welch and Loretta Higgins and graduated from Geneva High School. He attended Hobart College for a period of 2 years. With the start of the draft, in the summer of 1941, Tommy received his notice of classification and a second notice directing him to report for a physical examination.
Service Time: Tommy was approved for only limited service but with the bombing of Pearl Harbor in December of 1941, it was less than five months until Tommy had volunteered and was officially in the Army, on May 5, 1942.
He was inducted at Fort Niagara in Youngstown, Ohio, but only spent a week there before moving to Camp Wheeler, Georgia, for basic training. It was his hope that he would get into the Cavalry but his I.Q. scores were high enough that he was chosen for officer's training.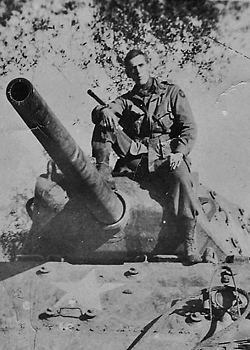 Tommy moved to Camp Hood, Texas, for the officer's training program in the newly formed Tank Destroyers. After finishing the program, he was assigned to the 822nd Tank Destroyer Battalion at Camp Bowie, Texas, but in October of 1943, he was shipped to North Africa and assigned to the 601st Tank Destroyer Battalion. Tommy remained with the unit, receiving credit for five of their 10 campaigns, Naples-Foggia, Anzio, Rome-Arno, Southernn France and Rhineland. He was rotated back to the states in April of 1945, and left the service in January of 1946 at the rank of 1st Lieutenant. Tommy received two Silver Stars, a Bronze Star, two Purple Hearts and was authorized to wear both the French Croix de Guerre and Distinguished Unit Citation as a member of the 601st.
Tommy registered for the fall 1945 term at Cornell University but left after the first year. In 1951, he was involved in a serious car accident and ended up in the Brooke Army Hospital, in San Antonio, Texas. In 1952, he was working at Bear Oil Company and married Patti Bogle on September 27th. Patti was the daughter of Mr. and Mrs. Francis White Collis and is thought to have originally been from Chicago. The couple had one daughter, Parker, born in 1954 or 1955. The couple would eventually divorce.
In the early sixties, Tommy joined the Sam Young Ad Agency, becoming an Advertising Executive and married the former Elizabeth Ann "Betsy" Madden. Tommy passed away on May 17, 1972, and was buried in the Fort Sam Houston National Cemetery, San Antonio Texas.
************************************************************************

The information above was provided courtesy of Tommy's nephew, Victor "Tory" Failmezger, who is a retired Commander in the US Navy. Tory has written a detailed book on his uncle, titled An American Knight – A Tank Destroyer Story. The book is based on 150 letters written by his uncle, during WWII, as well as other memoirs and diaries from men in the unit. The book goes beyond just 1st Lieutenant Thomas P. Welch's story and really gives a clear picture of the 601st Tank Destroyer Battalion and the Army's inner workings. I would recommend it to anyone interested in the 601st TD Bn., tank destroyer units, or WWII in general. The personal perspective given through the letters truly provides a soldier's view of the war. Tory takes the letters and fills in the "back" story, giving the reader a clear understanding. It's very well done, a truly enjoyable read and reasonably priced for a book of this size. At 480 pages, there is plenty of material.

You can find out more about the book and the author, as well as ordering information, at the following website….www.ww2tankdestroyer.com.
NOTE: If you plan to purchase the book, please mention this website and the author will give a small donation to www.tankdestroyer.net to keep us up on the web.