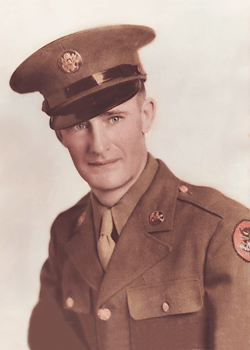 James H. Welch
Biography: James Howard Welch, "Howard", was born on March 7, 1910, on his father's homestead at Richards, Baca County, Colorado. He was the eldest son of James Lee Welch and Ruth Matilda Storer. By 1920, the family was living in Hooker Township, Oklahoma, where he assisted his father and grandfather in a mercantile business in Hooker. He moved with his family to Dalhart, Texas, prior to 1930, where he worked with his father and uncle at the Welch Grain Elevator. Prior to the war, he and his father developed a farm in Hartley County, fighting the difficulties of the Dust Bowl era. Howard graduated from Hutchinson Business College in 1930. He continued to work at both the elevator and the farm prior to entering the military.
Service Time: Howard entered the Army on December 12, 1942, at Fort Sill, Oklahoma and was sent to Camp Hood, Texas, on the 22nd. On March 24, 1943, he was sent to Camp Bowie, TX, then to North Camp Hood, TX, on May 19th and Camp Forrest, Tennessee, on June 27th. A Thanksgiving, 1943, memento shows Howard as a PFC in the Reconnaissance Company of the 810th Tank Destroyer Battalion. The 810th was disbanded on Dec. 20th and unit members were sent to other TD battalions. It is believed that this is when Howard was sent to the 802nd, ending up in B Company. He then went to Camp Polk, Louisiana, on Dec 27th, Camp Claiborne, LA, on the 29th and eventually overseas to England in April, 1944.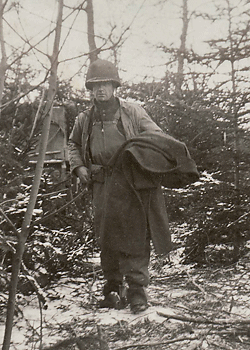 The 802nd landed in France on July 1, 1944, and entered combat at Carentan on the 4th using towed 3″ anti-tank guns. They advanced into Brittany in August, supporting the attack on St. Malo. After crossing France, they entered Luxembourg in late September and participated in operations against the Siegfried Line through November. In late December they participated in the "Battle of the Bulge". The photo at left shows Howard in the Ardennes. The unit converted to the M36 self-propelled tank destroyer in February and March, 1945. On March the 16th, Howard, along with a number of other 802nd personnel, was transferred to the 807th TD Bn.
This may have been as a result of the reduced manpower requirements following conversion to self-propelled destroyers. He finished the war with the 807th, earning five battle stars for the Normandy, Northern France, Rhineland, Ardennes-Alsace and Central Europe campaigns. He also earned the EAME and Good Conduct medals and two Overseas Service bars. Howard left the service at the rank of Private First Class.
Post-Service Time: When he returned home, Howard resumed farming in Texas. The farm produced grains and cattle. On July 18, 1948, he married Lula Belle Miller Jernigan in Raton, New Mexico. Howard was a quiet and reserved man who met the obstacles of weather, cattle and crop successes and failures with equanimity.
Howard passed away on March 12, 1985, in Amarillo, Texas, and was buried in Dalhart, Texas. Thanks to the wonderful Veterans Administration Hospital in Amarillo who cared for him so well. He had not seen a doctor after mustering out of the service until a few months before he passed from cancer. He was an excellent role model and beloved uncle.
We would like to thank Howard's niece, Kenalea, for providing the information and photos used in this tribute.