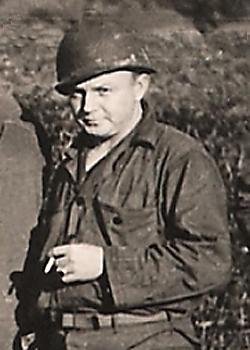 Hurschel E. Whitt
Biography: Hurschel Eugene Whitt was born on March 30, 1916 in Terrell, Texas. He was the son of Walter Lee Whitt and Annie Pearl Taffer and attended public school in Terrell. He went on to attend Texas Technological College in Lubbock, Texas, as a Journalism Major. His college nickname was "Hoosie" and he served as the business manager of the Toreador, which was the school's newspaper.

Eugene met his future bride at school, Mary Annice White, who was the daughter of Garrie White and Annie Pearl Dyer and was born in Tahoka, Texas. She was also a Journalism Major and Eugene sat behind her in class. Mary didn't share his attraction initially but he would eventually gain her interest since he graduated in 1940 and they were married that same year on March 2nd. The couple made their home in Lubbock, TX, and Eugene worked as a newspaper reporter.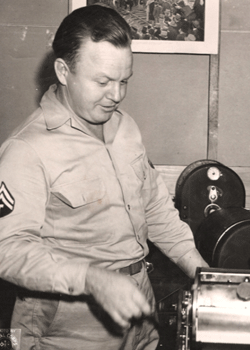 Service Time: Eugene entered the service and was assigned to the Headquarters Company of the 16th Tank Destroyer Group, which was formed at Camp Bowie, TX, in April of 1943. The unit soon moved to Camp Hood, TX, for training. They were transferred to Fort Jackson, South Carolina, and then to the Tennessee Maneuver Area for more extensive field training. They then moved to Camp Beckinridge, Kentucky, in March of 1944, before receiving final preparation for shipment, at Camp Kilmer, New Jersey. The unit sailed on Nov. 1, 1944, and landed in England a week later. They remained there for three months before landing in France, on Feb. 17, 1945, where they acted as the Anti-Tank Section of the XXI Corps. The 16th moved into Germany on March 23, 1945, and received credit for participation in the campaigns of Rhineland and Central Europe.
Eugene was know for being somewhat of a rascal and was busted twice for insubordination. He was able to put his journalism skills to work on the unit's newsletter as shown in the photo above. He also provided articles for the Stars and Stripes military newspaper. He left the service at the rank of Technician, 5th Grade.

After the war, Eugene returned to his hometown of Terrell and began working at the Terrell Daily Index. The photo below right, shows him in 1947 while he was the editor. He later worked as the editor of the Terrell Tribune. Eugene was always well spoken and well respected in the community. He was a man of strong opinions and was happy to share them. He was obviously well-liked since he was elected Mayor of Terrell and wasn't even on the ballot. The candidates were required to be landowners and even though his father deeded him a rental property, he missed the candidate deadline. He was elected anyway as a write-in.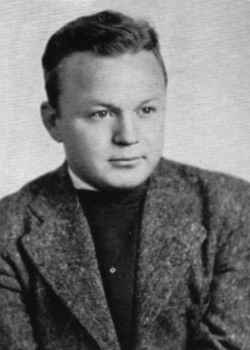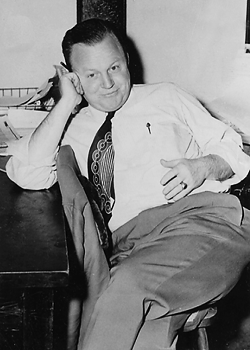 The photo above left shows "Hoosie" while editor of the Texas Tech newspaper. Later in life, Eugene bought into a local grocery and ran the family business until his retirement. He and Mary had four children, Judy, Jeff, Jack and James. He was always a voracious reader but also enjoyed the outdoors, hunting, shooting and reloading. He was a founding member of the Terrell Rifle and Pistol Club and was listed in Who's Who in America. Eugene passed away on January 15, 1993, and was buried in the Rose Hill Cemetery, located just south of Terrell. He had nine grandchildren.

I want to thank Eugene's son, Jack, for providing the materials used in this tribute as well as a large group of photos relating to the 16th TD Group.