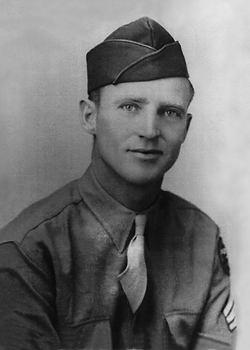 Johnnie L. Warren
Biography:  Johnnie LaDoyt Warren was born on August 28, 1913, in Frederick, Oklahoma.  He was the son of John Warren and Mattie Jones and attended school in the Merkel and Dublin, Texas, areas.  After leaving school, he worked in a bowling alley and on the Magnolia Pipeline.  On May 18, 1936, Johnnie married the former Alta Young.  She was born in Dublin, TX.
Service Time:  Johnnie entered the service on December 28, 1942, at Camp Wolters, TX.  He was assigned to Company B, of the 822nd Tank Destroyer Battalion. He shipped out with the unit on November 23, 1944, landing in England before boarding LSTs for transport to La Havre, France.  The 822nd was equipped with towed 3″ guns, which they put to use after joining the 63rd Infantry Division near Sarreguemines, Germany, in early February.
They crossed the Rhine in late March and re-equipped with M18's late that same month and into April. Moving across Germany, they reached Munsterhausen in late April and took up occupational duties at the end of the war.  They received credit for participation in the Rhineland and Central Europe Campaigns.
Johnnie received the WWII Victory Medal, the American Theater medal, EAME medal, the Good Conduct medal and a Bronze Star for actions on April 18, 1945, while in Germany. With much courage and devotion, he kept lines of communication open during a 13 hour period of intermittent shelling.  The lines were severed almost constantly and he repaired the breaks, which at times required him to crawl on his hands and knees to make the necessary repairs. Johnnie left the service at Fort Sheridan, Illinois, on December 7, 1945, at the rank of Sergeant.
Johnnie returned to Dublin, TX, and his wife Alta.  He also went back to work on the Magnolia Pipeline. In his spare time, Johnnie enjoyed fishing and occasionally caught them barehanded.  He was a member of the Masons and the Baptist Church in his community.  The couple moved to Clifton, TX, later in life.
Johnnie passed away on September 29, 1997 and was buried in Clifton.  I want to thank Johnnie's niece, Doylene, for providing the materials for this tribute.