Albert Wille
Biography: Albert Wille was born on January 13, 1920, in Port Huron, Michigan. He was the son of Emilium Wille and Marie Claeys and attended local schools through the 8th grade. Albert married the former Margaret Saylor Hurley, on February 14, 1942. She was born in Ohio and was the daughter of Joseph and Etta Hurley. The new couple made their residence in Harper Woods, Michigan.
Service Time: Albert entered the service and was assigned to Company B, of the 820th Tank Destroyer Battalion, specifically, 3rd Platoon, 4th Section. During their training, Company B received a reputation as being a rough bunch and was not afraid to mix it up with some of the non-TD troops. The unit's written history indicates that they participated in the Tennessee Maneuvers and that Co. B had no problem adjusting to the less than ideal conditions.
They shipped to England aboard the USS Mount Vernon, on September 27, 1944, landing on October 15. Two days later, aboard the English ship HSS Rapier, they crossed the English Channel, landing at Omaha Beach. The unit was equipped with their 3″ towed guns and set up a staging area at Valognes, France. They stayed there for about a month before moving into the Ardennes and deploying with the 106th Infantry Division to stop the German advance. Their orders were to relieve Co. B of the 612th Tank Destroyer Battalion, gun for gun, near Winterspelt, Germany.

On December 16, 1944, Albert's 3rd Platoon was positioned on the Siegfried Line, near Lutzkempenberg, Germany. They were confronted by the enemy but were able to fight them off successfully. They had been under continuous artillery and mortar shelling for an entire day when they were finally ordered to withdrawn to a position at Bracht. The 3rd Platoon, along with 1st Platoon, continued to be under heavy artillery fire for two more days before moving to Maldigen, Belgium, followed by Harre and finally Manhay to eliminate the last escape route of the Germans.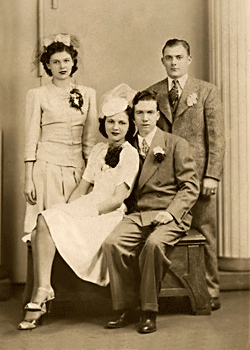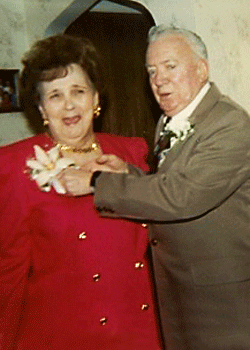 In early 1945, the 820th converted to M18s and trained quickly in their effective use before supporting operations in the Ruhr Pocket. It was during this time that 3rd Platoon was able to destroy an 88mm gun that had been well dug in by the enemy as well as take a number of prisoners. Third Platoon was again called to action when they joined the 2nd Battalion of the 386th Infantry Regiment for a night assault on the heavily defended town of Hohenberg. Their move continued to Hazlau and then to Selb and Vohenstraus. They ended their drive across Germany, arriving at Mesto Tousky, Czechoslovakia, in May, and returned to the U.S. aboard the SS Sea Tiger. Albert reached the rank of Private First Class. The 820th received credit for the following campaigns; Rhineland, Ardennes-Alsace and Central Europe.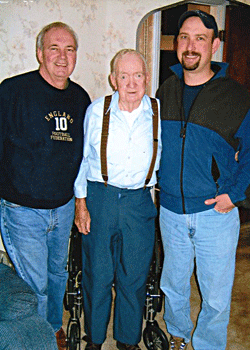 Albert returned to Michigan and worked as a rough carpenter. He and Margaret had three children, Ronald, Susan and Donald. Albert passed away on January 15, 2008, and was buried in the Mt. Olivet Cemetery in Detroit, Michigan.
The photo at left shows Albert, center, with son Ronald on left and grandson Ron Jr., on right. The photos above are Albert and Margaret on their wedding day (seated) and celebrating their 50th Anniversary. I want to thank Albert's grandson, Ron, for providing the materials for this tribute.