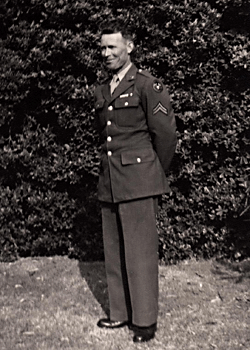 Bertram S. Washabaugh
Biography: Bertram "Bert" Sparks Washabaugh was born on November 3, 1905, outside of Winters, California, a rural farming town northwest of Sacramento in Solano County, CA. His parents were Grover Cleveland Washabaugh and Jessie Lee Kettelwell. They had a second child, Lloyd Grover, born December 27, 1912, who died September 3, 1913. Bert's father passed away January 18, 1923. His mother later remarried Robert Sylvester and they had one daughter (Bert's half sister).
The family lived in Calistoga (Napa County), CA. He went through the Franz Valley (Calistoga, CA) Grammar School and then the Santa Rosa, CA, High School and took some college courses at Santa Rosa Business College (now Santa Rosa Junior College). He became employed in the construction department of Pacific Gas and Electric Company (PG&E) and worked there for 19 years prior to serving in the Army.
Before going overseas, he met Ada Lois Sherman (Lois), daughter of Myrtle Sherman/Ackerman, who worked for one of PG&E's subsidiaries. Lois and Bert eventually married following the war.
Service Time: Bert's military service began on April 1, 1941, but by October 25, 1941, he was released under the "overage ruling." He was called back after the Pearl Harbor attack and on Feb 14, 1942, he was assigned to Company C of the 607th Tank Destroyer Battalion, located at Sunnyvale, California at the time. The unit trained at Camp Hood, Texas, followed by a move to Camp Ibis (Desert Training Center) and later to Camp Cooke, both in CA. On April 2, 1944, they boarded a troop transport train for Camp Miles Standish, Taunton, Massachusetts, and on April 13, 1944, the battalion embarked on the USS Wakefield, a troop transport ship, bound for overseas duty.
They arrived in England on April 21, 1944, and were stationed temporarily in Macclesfield, Cheshire. A month later they moved to Camp Barton Stacy in Southern England for final preparations prior to the invasion of Normandy, France. Due to high seas, Companies B and C didn't land until June 23, 1944, at Utah Beach. From that point there were a number of encounters with the enemy while supporting the 359th Infantry Regiment (90th Inf. Div.) in the areas of Cretteville, Ste. Suzanne, Foret De Monte Castro, St Hillaire, Montsurs and Alencon.
Company C was heavily involved in the closing of the last gap of the Falaise Pocket. They were setup at an intersection in the town of Le Bourg St. Leonard, France. There was heavy enemy fire and some members of the Platoon were driven away from their 3" anti-tank guns. A German tank was spotted coming out of the woods and Cpl. Washabaugh, along with Pfc. Francis L. Hunsicker, on their own initiative, fired on the tank and knocked it out. For this action, they were both awarded the Silver Star.
Later that same day, as the platoon moved to support the infantry, there was a need for more small arms ammunition. Cpl. Washabaugh and Pfc. Donald B. Heslop volunteered to go to their half-track, a short distance away, and get the ammunition. On returning back to the battle line following the same route they had taken before, they went through a hedgerow and encountered a German patrol. They were immediately taken prisoner. Within a few days, maybe at the most a couple of weeks, Cpl. Washabaugh and Pfc. Heslop were separated and never heard from, or saw, each other again. Cpl. Washabaugh was eventually taken to Stalag III C located in Drewitzime, northeast of Kustrin, Poland. On January 31,1945, Stalag III C was overrun by Russian tanks. The G.I's found their way across Poland to Odessa, Russia. Soon, they boarded one of two British ships bound for the United States. Bert started a 60 day furlough and returned to his mother's home in Calistoga, California, on May 1, 1945. He was discharged from the Army at Camp Roberts, California, September 16, 1945.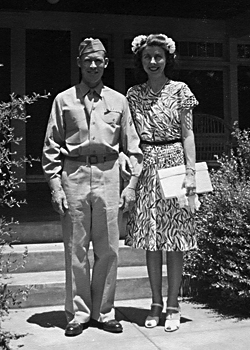 Post Service: Bert returned to his career with PG&E and married Lois on May 7, 1945. The couple lived in Fresno, CA, where they had one son, Dwight, born May 13, 1946. His greatest loves were being in the outdoors, fly fishing and photography. Bert passed away January 26, 1953, and is buried in Belmont Memorial Park, Fresno, CA.
Bert's son, Dwight, recently retired (March 2015) and one of his first projects was to investigate family boxes of his mother's where he found information about his dad and his war time service. Through that research, and the Tank Destroyers website, he connected with Steve Dike (son of Charles Dike, 607th) and Tim Heslop (son of Don Heslop, 607th). On July 31 and August 1, 2015, Dwight met Don Heslop, who was captured with his dad almost 71 years ago outside Le Bourg St. Leonard, France, along with Don's son, Tim. It was an incredible moment for all.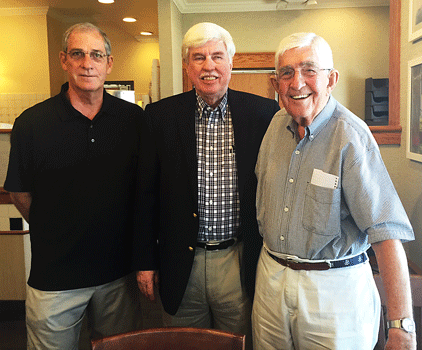 In the photo to the left, you can see Dwight in the center with Tim on the left and his father Don on the right.
We would like to thank Dwight for the photos and information used in this tribute.