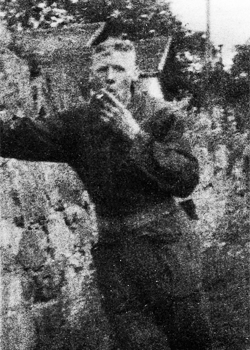 Jack T. Williams
Biography: Jack Terrell Williams was born on February 27, 1917, in Montpelier, Idaho. He was the son of James Brown Williams and Elizabeth Jane Black and attended local schools through the 10th grade. After leaving school, he worked as a farmer.
Service Time: Jack entered the service on April 1, 1941, at Fort Douglas, Utah. He was assigned to the 803rd Tank Destroyer Battalion and functioned as a driver of a tank destroyer. During his training, he qualified as a Marksman with the pistol and rifle and an Expert with the Thompson Sub-Machine gun.
The 803rd shipped out from the New York port on June 24, 1943, and arrived in England on July 6th. After just over 11 months of additional training, they landed on Omaha Beach on June 13, 1944, equipped with M10s. They helped capture St. Lô in July and raced across northern France in August, passing through Belgium and Holland before reaching the Siegfried Line in September. They then supported operations north of Aachen in October, and were later shifted to the Hürtgen Forest. They were moved to the Ardennes just before the German offensive began in December and were committed against the Siegfried Line again in early 1945. In February, they converted to the M36, participating in the capture of Trier, and crossed the Rhine River on March 23rd at Oppenheim. The 803rd joined the elimination of Ruhr Pocket in April, and then pivoted southeast through Austria and into Czechoslovakia.
Jack received credit for each of the unit's campaigns in Normandy, Northern France, Ardennes-Alsace, Rhineland and Central Europe. He was awarded the American Defense Medal, the American Theater Medal, the EAME Medal the Good Conduct Medal and the WWII Victory Medal. He was also awarded the Soldier's Medal, which is given to a soldier for heroism not involving the enemy. We unfortunately do not know the circumstances surrounding this award.
At some point during the occupation of Germany, Jack's foot was crushed during the move or set-up of some piece of heavy equipment, possibly a large towed gun. Attempts were made to correct his injuries but his foot was not healing properly. Jack was loaded onto a hospital ship and set sail on October 31, 1945, for the U.S. The ship's doctors wired his foot together to hopefully repair the damage. They arrived back in the states but Jack spent additional time recuperating in hospitals until he finally left the service on February 1, 1946, at Fort Douglas. He had reached the rank of Technical 4th Grade.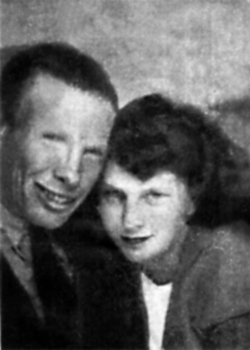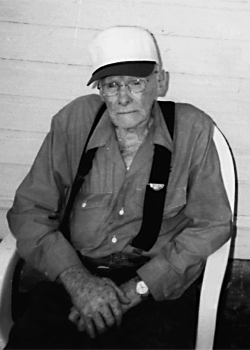 Jack made his home in Huntington, Oregon, and found work at the Oregon-Portland Cement Company. He was caught in a rock-slide where he could easily have been killed. He ended up with a broken arm and leg as well as injuries to the same foot which had been hurt before. The doctors patched him up but informed him that any additional injuries to the foot would force them to remove it.
On June 18, 1947, Jack married the former Carma May Bright. She was born in Lewiston, Utah, and was the daughter of Francis Earl Bright and Ruby May Baker. The couple had five girls and one boy, beginning in 1948. In his spare time, Jack enjoyed fishing and hunting. He passed away on November 13, 2009, and was buried in the Smithfield Cemetery in Smithfield, Utah.
I want to thank Jack's daughter, Jane, for providing the photos and information for this tribute.