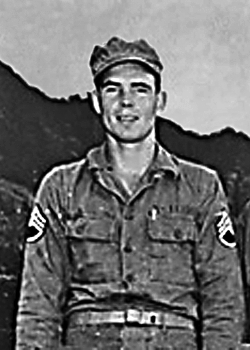 Darrell V. Wardle
Biography: Darrell Van Wardle was born on January 14, 1923, in Roosevelt, Utah. He was the son of Alfonzo and Eliza Wardle and attended local schools through the 12th grade. He then worked as an auto mechanic. Darrell married the former Emma Lou Haynes who had been born in Sunnyside, Utah. She was the daughter of Homer H. and Mayble Haynes and the new couple would have one son, Darrell Duane, born in 1942.
Service Time: Darrell entered the service on March 4, 1943, at Salt Lake City, Utah. He was assigned to the Reconnaissance Company of the 670th Tank Destroyer Battalion, which was activated at Camp Hood, Texas, on June 12, 1943. They would spend some of their training time at Camp Shelby, Mississippi. The unit moved to Seattle and shipped out on December 28, 1944, arriving there on January 5, 1945.
While in Hawaii, they were stationed at the Schofield Barracks, on the Island of Oahu. At some point, he either transferred or was assigned to the USARPAC (United States Army Pacific) Headquarters and was a trainer at the Pacific Combat Training Center, also located on Oahu. The training school was opened in December 1942, and utilized the jungle-like terrain of central Oahu to simulate Japanese defenses and train the thousands of troops going into the Pacific conflict. They were taught hand-to-hand combat, stream crossing techniques, demolition, and the use of special tactics and weapons, flame throwers, mortars and small arms. By the end of the war, there were over 50 such training areas on Oahu. Not only was Darrell an instructor on the Hand to Hand fighting course but he was also one of the six highest scoring men on the Pistol Team.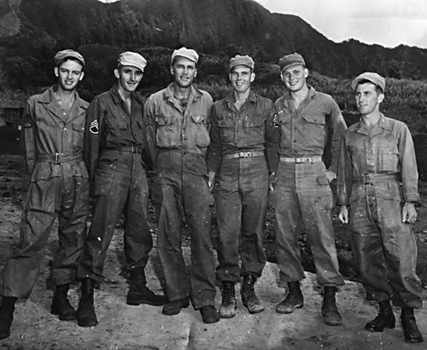 Shown in the photo above are the highest scoring men of the pistol team. Shown L to R is SSgt. William La Porte from Oklahoma; SSgt. Joseph Gziura from Ohio; Sgt. D.L. Faulkner from Texas; SSgt. Darrell V. Wardle from Utah; Sgt. Red. R. Pettus from New York and Lt. Everet L. Ousley from Rhode Island. Darrell received the WWII Victory Medal, the American Campaign Medal, the Asia-Pacific Theater Medal and the Good Conduct Medal. He left the service at the rank of First Sergeant.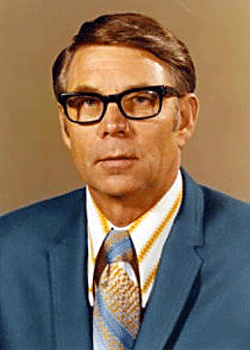 After returning home to his family in Roosevelt, Utah, Darrell went back to working as a mechanic for a few years but then had an opportunity to manage and run his own auto parts store. In his spare time, he enjoyed hunting, fishing and car restoration. He was also a member of The Church of Jesus Christ of Latter-day Saints. Darrell passed away on May 15, 1989, and was buried in the Vernal Memorial Park, in Vernal, Utah.
I want to thank Darrell's son Duane, for providing the information and photos for this tribute.