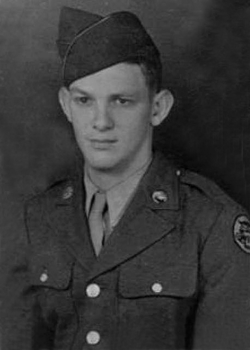 Harold C. Wray
Biography: Harold Claude Wray, "Huck", was born on May 26, 1923, in Applewood, Pennsylvania. He was the son of Frank McClister Wray and Ellen Mabel Markly and graduated from Kittanning High School in 1941. During his time in school, he played football and was a member of the National Scholastic Honor Society. A comment in the school's yearbook says that he was an "Intramural Star". His thought for the future was that "Money doesn't count much", obviously a well rounded young man.
After graduation, he went to work for the Dravo Construction Corporation and on May 16, 1942, he married the former Liefa M. Corbett who was the daughter of Earnest Melvin Corbett and Mamie Louetta Armstrong. The new couple made their residence in Coraopolis, PA.
Service Time: Huck entered the service on January 27, 1943, at Pittsburgh, PA. After his initial training, he was assigned to Company A of the 817th Tank Destroyer Battalion. He received additional training in a number of camps, in a number of states, including Texas, Kansas, Tennessee and Kentucky.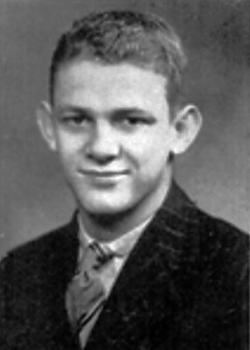 After Huck's induction, Liefa moved into her parents home and soon had a son, David, born in 1943. Huck made it home one last time in January, 1944, before the unit shipped overseas. The 817th shipped out from the Boston Port on July 24, 1944, arriving at Greenock, Scotland, on the 31st. They then boarded transport ships and landed at Utah Beach on August 25th. They initially took up rear-area security duties in France and Belgium where they guarded the COMZ (Communication Zone) from August till November. They entered combat with the 8th Infantry Division on December 9th, in the Hürtgen Forest. they were equipped with the towed 3″ gun.
On December 26, 1944, while serving near Vossenack, Germany, Pfc. Harold C. Wray was killed in action after he and two fellow soldiers. Pvt. Vito Marco and Pvt. Raymond F. Greener, inadvertanly walked into a minefield. He was buried in the Netherlands American Cemetery, Plot B, Row 14, Grave 32. In a letter sent to his family by his commanding officer, Lt. Col. William Bardes, he stated that Huck was held in the highest esteem by the officers and the men of his company. Huck received the Purple Heart.
Huck came from a large family and in addition to his service, his brother Walter served with the Third Army in France and his brother Charles served in the Navy in the South Pacific. I want to thank Huck's nephew, Patrick, and a friend of our website, Erwin Derhaag, for providing materials for this tribute.