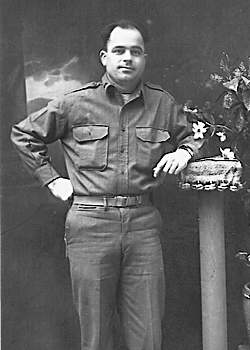 Floyd R. Willis
Biography: Floyd Richard Willis was born on February 18, 1915, in Bay City, Michigan. He was the son of Floyd Willis and Vida Elizabeth Wilson and when Floyd was around 15 years of age, the family moved to Medicine Hat in Alberta, Canada. After a few years, he moved back to Michigan and worked for an auto parts dealer in Bay City.
Service Time: Floyd enlisted in the Army in 1941, and received at least some of his training at Camp Claiborne, Louisiana. He was assigned to the Headquarters Company of the 691st Tank Destroyer Battalion, which spent time stationed at Camp Claiborne, just prior to participation in the Louisiana maneuvers.
They shipped out from the Boston port on July 26, 1944, arriving in England on August 1st. By the end of the month, they had landed in Northern France and entered combat in September in Lorraine, France. They were equipped with 3″ towed guns. They transferred to the Ardennes sector in December and shifted south again to join operations in the Saar region in February and March 1945. In late March, the 691st began conversion to M36 tank destroyers.
During the first week of April, the unit was partially converted to the new TDs in an effort to support the 65th Infantry's advance into Germany. On April 3rd, WOJG Floyd R. Willis along with T/4 Earl R. Anderson, were sent to an ordnance unit, probably to retrieve needed 90mm ammunition for the new TD's. Earl was wounded during the trip but sadly, Floyd was killed. He was one of only two men killed during the month of April.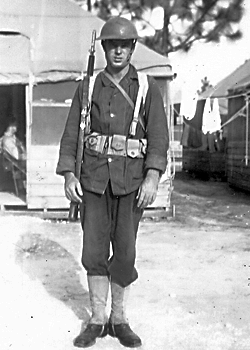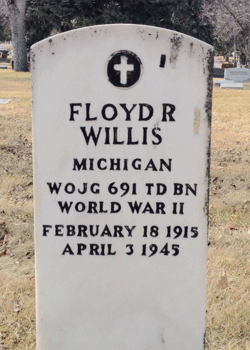 Floyd was buried in the Hillside Cemetery, in Medicine Hat, where his family had moved. He posthumously received the Purple Heart. I want to thank Floyd's niece, Sharon, for providing the information and photos of Floyd for this tribute. Special thanks to Linda, Find-A-Grave Contributor, for the use of Floyd's grave marker image.