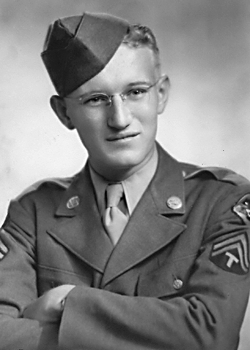 Hugh J. Welter, Jr.
Biography: Hugh Jacob Welter, Jr. was born on October 13, 1921. He was the second son (of three) born to the Welter family in Winnetka, Illinois. His father, Hugh Jacob Sr., owned and operated an auto-repair garage. Hugh grew up around engines and mechanical repairs, and often helped his father in the garage after school and weekends.
Service Time: Hugh was drafted in January and went through basic training at Camp Bowie, Texas. After a series of assignments with tank destroyer battalions in North Carolina and Texas, he was transferred to the 672nd Tank Destroyer Battalion at Camp Hood, Texas, in June, 1943. After the unit moved to Fort Ord, California, they were redesignated as an Amphibious Tractor Battalion, in April, 1944. They shipped out in September, 1944, and landed on Bougainville Island in the North Solomons, in October. In November they were withdrawn and the 672nd was assigned to the landing on Luzon.
Hugh was an LVT-4 (Landing Craft Tracked) driver, and his Trac carried troops of the 37th Infantry Division ashore at Lingayen Gulf and supported them on the dash for Manila. The 672nd also provided direct support of the 37th during the battle for Manila in February and March. On February 20, the 672nd was attached to the 11th Airborne for the raid on the Los Baños Internee Prison Camp, and Hugh ferried troops to the camp and internees back from the camp.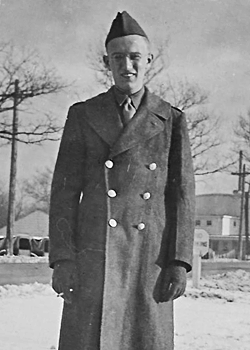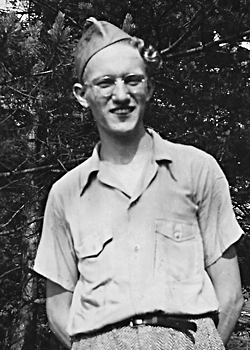 The photo on left above shows Hugh just after his induction into the Army. The photo on right shows him in 1942, while stationed at Ft. Bragg, North Carolina. In the photos below, Hugh is shown getting ready for some landing exercises on the beaches near Ft. Ord, California and boarding the ship Puebla, while moving between islands in the Pacific.
After Los Baños, Hugh and the 672nd returned to support the 37th Infantry and it's drive on the hills of Northwest Luzon, culminating in the capture of Baguio on April 26, 1945. They were withdrawn first to Cabanatuan and then to Morotai Island, where Hugh's company was detached to support the Australian 7th Division in Operation Oboe II, which was a landing on Borneo at Balikpapan. Landing in the first wave on July 1st, Hugh's LVT-4 was under mortar fire and Hugh was hit and wounded by shrapnel above the right eye. He received the Purple Heart for his injuries. The 672nd withdrew from Borneo in mid-July and went into bivouac at San Fabian, Philippines, where they were stationed until after VJ Day. Hugh was discharged in 1946, at the rank of Technician 5th Grade.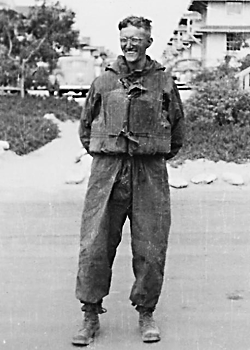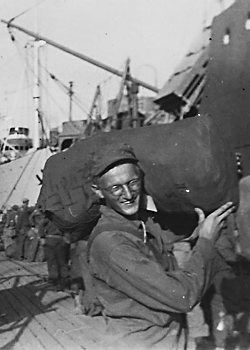 Now back in the U.S., Hugh moved back to Chicago and met Jean E. Treveiler, who he married in 1953. They had four children, three girls and one boy, over the next seven years. Hugh took a sales position with Owens-Corning Fiberglas and eventually rose to the position of District Manager.
He was an avid golfer, fisherman, outdoorsman and a committed Christian. He supported his church in various capacities and was a member of several Christian out-reach groups. He retired from Owens-Corning in 1986. Over the years, Hugh and Jean lived on both coasts and stops in-between. After his retirement, they traveled around the world twice, finally moving to Austin, Texas, in 2001. Hugh passed away in his sleep on May 16, 2008, at the age of 85.
I want to thank Hugh's son, Jacques, for providing the photo and text for this tribute. I also want to thank him for the additional materials he has provided about the 672nd.