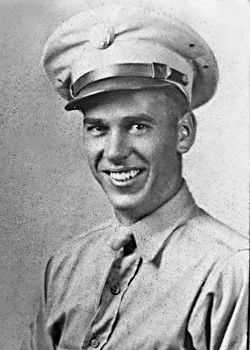 Torrance P. White
Biography: Torrance Preston White was born on March 24, 1917, in Rutherford County, North Carolina. He was the son of Berlin Lewis White and Sallie Williams and attended Green Creek School in Polk County, NC. After graduating, he found work in some type of sheet metal business. As of July, 1941, he was living in the Resident Center of Legion Stadium in Wilmington, NC. At that time, he is thought to have been working in the ship yards.
Service Time: Torrance entered the service on February 15, 1942, and was initially assigned to Battery C, 6th Battalion of 2nd Field Artillery Regiment, which was stationed at Ft. Bragg, NC. By May 11, 1942, he was serving in the Pioneer Company of the 634th Tank Destroyer Battalion but at some point was moved to Company B. He traveled with the unit to Camp Hood, Texas, and had written home on June 15th. They then traveled to Camp Claiborne, Louisiana, and participated in the Louisiana Maneuvers that fall before being re-equipped with the M10 Tank Destroyer. He mentioned in one of his letters that he had taken a truck driving test.
They shipped out from the New York port on December 29, 1943, and arrived in England on January 10, 1944. After a period of preparations and extra training, they loaded on transports and landed at Utah Beach on June 30th. They were committed to battle on July 10th near Carentan, France, and participated in the Cobra Breakout in late July.

Widely separated elements of the unit helped capture Mayenne, France, and defeat the Mortain counteroffensive in early August. They then raced east to Mons, Belgium, and supported operations against the Siegfried Line, helping to capture Aachen, Germany, in October. Fighting in the Hürtgen Forest in November, the 634th moved to Belgium in December, only to race south to the Ardennes in late December.
V-Mail Letter Home – December 7, 1944
The unit crossed the Roer River on February 25th, 1945, and pushed to the Rhine River at Bonn by March 9th, crossing at Remagen on March 15th and supporting the envelopment of the Ruhr Pocket. On March 30, 1945, T/4 Torrance P. White was killed in action. There is no mention of the circumstances of his death, but at the time, Company B Command Post was located at Burbach, Germany. Platoons of the company were located near Rodgen, Haphorn and Elsern with four enemy strong-points destroyed during the period.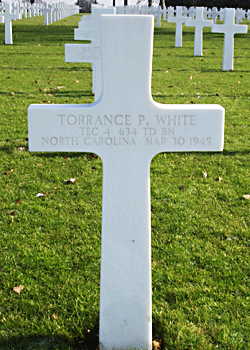 Torrance was eventually buried in the Netherlands American Cemetery at Margraten, Limburg, Netherlands, Plot L, Row 16, Grave 6. His family would have received his Purple Heart in honor of his supreme sacrifice. I want to thank Torrance's niece, Eliza C. Owens, for providing the photo of Torrance, his letter home and information on her uncle. I also want to thank Find A Grave contributor Fred for the photo of his grave marker.