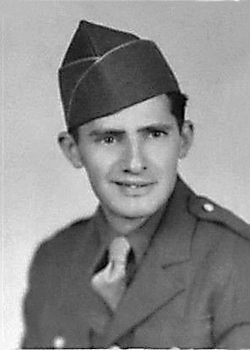 William H. Wright
Biography: William Hood Wright, "Bill", was born on January 5, 1914, in Kensington, Maryland. He was one of four sons and a daughter born to Frederick B. Wright and Sarah A. Carrick. He graduated from Central High School and D.C. Teachers College. His enlistment record indicates he was working as a foreman in manufacturing prior to entering the military.
Bill came from a long line of military men with his father serving in WWI, and additional Wright men serving in the Civil and Revolutionary wars.

Service Time: Bill entered the military on September 29, 1942, at Ft. Myer, Virginia. He was eventually assigned to the 802nd Tank Destroyer Battalion, which trained at various locations in Mississippi, North Carolina, Texas and Louisiana. In March 1944, they moved to Camp Kilmer, New Jersey, to prepare for overseas deployment and soon departed from New York aboard the troopship "Isle de France".
The unit disembarked in France on 1 July, 1944, as a 3″ towed gun battalion, entering battle near Carentan on 4 July. Advanced into Brittany in August and supported attack on St. Malo in August. They crossed France and entered Luxembourg on September 23rd and supported operations against the Siegfried Line through November, participating in the Battle of the Bulge in Luxembourg in late December. The unit converted to self-propelled M36 tank destroyers in February through March, 1945, and crossed the Rhine River, at Wessel, Germany, on April 2nd.
The 802nd joined the elimination of the Ruhr Pocket, after which they took on occupation duties. They were credited with the campaigns of Normandy, Northern France, Rhineland, Ardennes-Alsace and Central Europe. Bill left the service at the rank of Technician 4th Grade.
Bill returned to the U.S. and began a career that spanned almost 40 years working for the U.S. Government. On January 11, 1950, he married the former Louise M. Kobliska, who
was born in New Hampton, Iowa, and was the daughter of John J. Kobliska and Theresia M. Friedman. The couple had three sons. Bill worked a decade for the Government Printing Office and then went to work for the CIA (Central Intelligence Agency).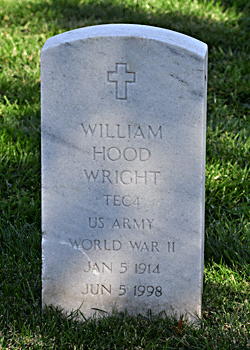 He retired in 1972, as a photographic support officer. In his spare time, he was a member of the NRA, Knights of Columbus and St. John's Catholic Church in McLean, VA. Bill passed away on June 5, 1998, in McLean, Virginia, and was buried in Arlington National Cemetery, Arlington, VA. The grave marker photo is shown courtesy of John Evans.