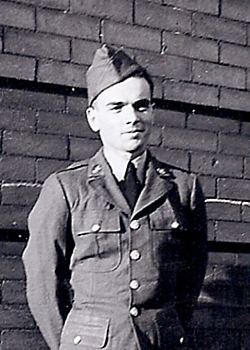 Donald R. Yoder
Biography: Donald Ralph Yoder was born on October 28, 1919, in Brockton, Montana. He was the son of Ira and Marie Hoar Yoder and attended Nelson and Anderson schools in the rural Anderson community. He went on to attend Brockton High school but graduated in 1939 from Poplar High school in Poplar, MT. Donald worked as a farmer prior to his time in the service.
Service Time: Donald entered the service on March 20, 1942, at Fort Snelling, Minnesota. At the time he was living in Roosevelt County, MT. He was placed in the Reconnaissance Company of the 601st Tank Destroyer Battalion. He was wounded in May of 1943 and received a Purple Heart. A t the end of the war, he had reached the rank of Technician 4th Grade.
When he came back to the U.S., Donald married the former Cora Gilley on May 22, 1946. Cora was from Livingston, MT, and the couple had one child, a daughter, Susan. Donald went back to his roots in Montana and settled down on a farm just north of Brockton, where he continued farming until his death. Cora passed away in 1993 and Donald in March of 1995. Both are buried in the Montana State Veteran's Cemetery at Fort Harrison in Helena, Montana. Susan and her husband Gary continue to farm the family farm.
Donald's name has been added to the Montana Purple Heart Memorial list, which will be rededicated, along with his name engraved on the new panel, at the Yellowstone County Courthouse in Billings, Montana, on Veteran's Day, November 11, 2010.
I want to thank Donald's daughter, Susan, for providing both the information and photos of her father. An additional photo of Donald, and the Reconnaissance Company unit photo are shown in the photo gallery on the 601st TD Bn page in the Units section of the site.