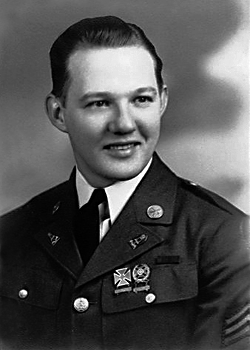 John R. Yakshe
Biography: John Rudolf Yakshe was born on December 25, 1912 in Marianna, Pennsylvania. He was the son of Janez Jakse (John Yakshe) and Edna Linnie Tigerstrom. After graduating from New Kensington High School, John worked as a butcher at Star Meat Market for 11 years and then briefly for the US Aluminum Company of America in Pittsburgh, PA. On November 17, 1937, John married Laura K. Gizicki from Pittsburgh, PA; the daughter of Stefan Gizicki and Marianna Svider. The new couple started their life together in Logan's Ferry, PA.
Service Time: On June 8, 1936, John enlisted as a private in the Pennsylvania National Guard; he re-enlisted, reaching the rank of Sergeant. In 1939, he and Laura gave birth to a son, John S. On February 3, 1941, John R. Yakshe was mustered into Federal Service in Pittsburg, PA and received training at Fort Meade, MD, Camp Hood, TX and San Luis Obispo, CA. He was selected for Officer Candidate School and attended at Fort Sill, Oklahoma. He was promoted to Lieutenant and assigned to Company C of the 607th Tank Destroyer Battalion, serving as Executive Officer. He was sent overseas on March 15, 1944 from Camp Cook, CA. Companies B and C landed at Utah Beach, Normandy, France, on June 24, 1944. Co. C was attached to the 90th ID. John was wounded at Beau Coudray, France, on July 12 and evacuated, returning to duty on August 23, 1944. The unit fought with the 90th across France through October. In early November, the 607th was attached to the 95th ID for the final battles to capture Metz, France, where John was awarded the Bronze Star for his actions. Next came the drive to the Saar River at Saarlautern, Germany, where heavy fighting in the city and surrounding towns raged through December and January. In late January, they were shifted to the Houffalize, Belgium area. In early February, they were attached to the 87th ID and began a new drive to the east into Germany. They crossed the Rhine River on 25-26 March and continued moving toward the Czechoslovakian border where they closed out the war. The photo below, left, shows John sitting on the front of one of the unit's M36 tank destroyers.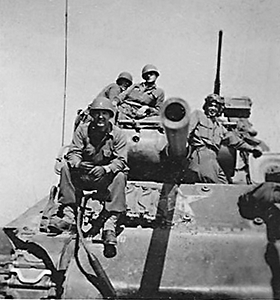 After returning to the United States, John received an offer of promotion and reassignment in the occupation forces in Germany. He accepted and joined the 5th Field Artillery, serving with the unit in Nuremberg and Schwabisch Hall, Germany. In 1948, John and Laura had another son, Douglas W.. John was promoted to Captain in 1947 and Major in 1949. In 1952, he was assigned as an Artillery Battalion Commander in Inje, South Korea. He was awarded a Bronze Star medal (1st Oak leaf cluster) on 25 February 1954. In 1955, he had a third son, Paul N.. In 1957, John was assigned as a Military Attaché to the American Embassy in Istanbul, Turkey. In 1960, he became an advisor to the Pennsylvania National Guard. His last assignment, in 1962, was as the Inspector General, XXI US Army Corps, Fort Indiantown Gap, PA. Colonel John R. Yakshe retired from the military on February 28, 1966, after serving nearly 30 years. At his retirement ceremony, in recognition of his extraordinary fidelity and essential service, he was decorated with the Legion of Merit by Major General Van H. Bond, Commanding General, XXI US Army Corps. You can see a photo of that ceremony below.
In addition to the Legion of Merit, John earned the following awards and medals; Purple Heart, American Defense Service, WWII Victory, Army Occupation (Germany), Korean Service, United Nations Service, National Defense Service, Bronze Star w/First Oak Leaf Cluster, American Campaign, Army Commendation, and Armed Forces Reserve. He also received a Distinguished Service Citation and was honored as the Parade Marshall in the Armed Forces Day Parade, May 19, 1967, in Allentown, PA.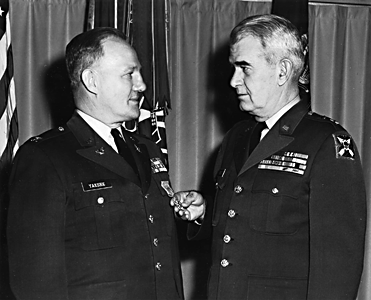 After retiring from Military Service, John went to work for Buckeye Pipeline in 1968 and then in 1970 joined Queen City Construction Corp. General Contractors, later becoming Vice President of the company. Laura passed away on November 6, 1971, and John subsequently married Veronica Lucik on June 30, 1973. In his spare time, he enjoyed hunting and fishing. He was a member of Ducks Unlimited, the Emmaus Shelter House Society, the Emmaus Planning Commission and the Lehigh Valley Rod and Gun Club. He was admitted to the Golden Circle of Optimist International. John passed away on April 23, 2000; he is buried in Resurrection Cemetery, Allentown, PA.
We would like to thank John's sons, Paul and John, for providing the photos and information used in this tribute.