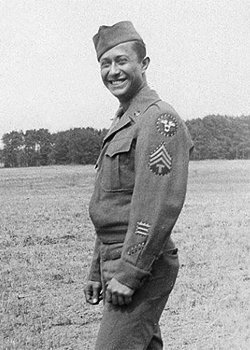 Orville C. Zink
Biography: Orville Carl Zink was born on May 5, 1919, in New Haven, Allen County, Indiana. He was one of three sons born to Christian Frederick Zink and Vera May Platter. His enlistment record indicates he completed one year of high school and his draft card lists his employer as Moellering Construction in Fort Wayne, IN.
On June 7, 1941, Orville married the former Delores Ida Ryan who was also from New Haven. She was the daughter of Joseph Ryan and Virginia Gerardot.
Service Time: Orville entered the Army on December 15, 1942 at Toledo, Ohio. He was eventually assigned to Company B of the 608th Tank Destroyer Battalion. They trained at a number of locations in the U.S. including Fort Leonard Wood, Missouri, the Tennessee Maneuvers and Camp Atterbury, Indiana. On December 20, 1943, the 608th was deactivated and the personnel were transferred to other tank destroyer units. Orville was sent to the 607th Tank Destroyer Battalion and assigned to Company B. Additional training ensued at Camp Cooke, California.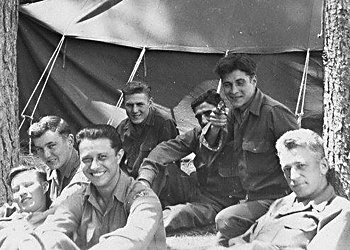 The photo at left shows Orville and a few other men from the unit. Shown L to R are Sgt. Woodrow W. Payton, Cpl. Wilbur A. Duhamell, Orville, Sgt. Robert L. Davis, Pfc. William J. Adamo, Pfc. Sol Shalat, (with pistol) and Pfc. William F. Mathey.
Arriving at Liverpool, England, on April 21, 1944, they continued training. Part of Headquarters Company and Company A disembarked at Utah Beach on June 17, with the remainder of the battalion arriving on June 23. They supported the advance on Cherbourg, fighting along the Seves River in July. Participating in the drive to Le Mans and envelopment of the Falaise Pocket in August, they advanced to the Moselle River in September and supported operations against Metz through November, converting to a self-propelled battalion equipped with M36 tank destroyers in time for the final assault.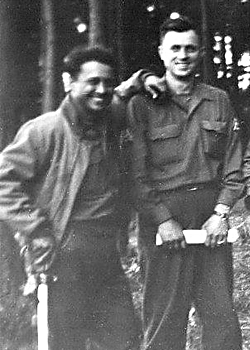 In this photo, Orville is shown at left with an unknown soldier. At the time of this image, it is believed that Orville and the other man had been former crew members with Pfc. William F. Mathey and Pfc. Sol Shalat.

Continuing the drive toward the Saar River and the attacks against Saarlautern, Germany, they were soon involved in the fight against the Siegfried Line in December. Deployed to the Ardennes sector in January, 1945, the 607th was again committed against the Siegfried Line in February in the Schnee Eifel. Supporting the capture of Koblenz in mid-March, they crossed the Rhine River at Boppard on March 25. The unit continued to drive east through Hessen and Thüringen during April and reached the Czechoslovakian border near Plauen by mid-April. Thereafter, they remained in defensive positions until VE Day.
Orville earned a Silver Star Medal for his actions at St. Eugenie, France, on August 19, 1944, during the battle of the Falaise Gap. On August 4, 1945, he was transferred to HQ and HQ Company of the 607th. On the 10th, he was transferred to Company A. He returned home aboard the SS George Washington, arriving at the NYPE on October 26, 1945. He also earned a Good Conduct, World War II Victory and the EAME medal with credit for the campaigns of Normandy, Northern France, Rhineland, Ardennes-Alsace and Central Europe. He left the military on October 30th at the rank of Technician 4th Grade.
Orville returned to New Haven and Delores. The couple had five children, Joyce, Janice, Donald, William and Thomas. He worked for the Dana Corporation until retirement after 32 years and was a member of Our Lady of Good Hope Catholic Church in Fort Wayne, IN.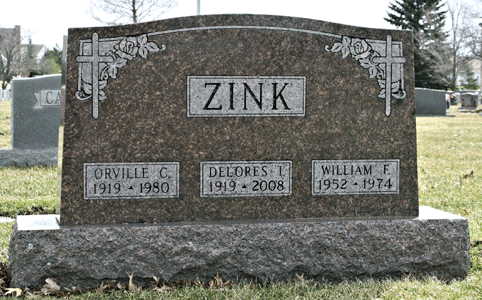 Orville passed away on January 14, 1980, and was buried in the Highland Park Cemetery, St. Vincent's Section, Fort Wayne, IN.
We would like to thank Serge Lemaire for providing information for this tribute and Find-a-Grave member Ann Mensch for the grave marker photo.