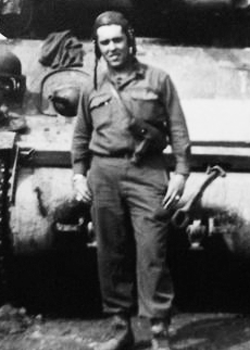 Raymond Zander
Biography: Raymond Zander, "Ray", was born on October 1, 1923, in Hillside, New Jersey. He was the son of Arthur George Zander and Marie Katherine Ressler and attended local schools, graduating from Hillside High School in 1941. His draft card indicates that he was working for a company identified as Schaeffer, but he would begin work as a engine lathe operator at the Acromark Corp., just prior to the war.
Service Time: Ray entered the service in 1942, and after his basic training, he was assigned to Company C of the 692nd Tank Destroyer Battalion. The unit trained at a number of military facilities, including Camps Bowie and Hood, Texas, Camp Phillips, Kansas, and Camp Campbell, Kentucky. They also took part in the Tennessee Maneuvers. It was on February 17, 1944, that Ray qualified as a Marksman with the Carbine.
The 692nd was initially designated as a self-propelled battalion, but in March of 1944, they converted to a towed battalion, utilizing 3″ anit-tank guns. They proceeding to Camp Kilmer, New Jersey on August 25, 1944, where they made final preparations before heading overseas.
The unit shipped out from the New York port on September 12th, 1944, aboard the HMS Scythia and arrived in England on the 22nd. The next day they departed for France, arriving at Cherbourg on the 23th, but didn't disembark until the 25th. They entered the line near Wustwezel, Belgium, about October 28th and fought along the Siegfried Line, in the vicinity of Stolberg, beginning in November.
They occupied defensive positions along the Roer River during the Battle of the Bulge and converted to the M36 tank destroyer in February, 1945. In addition to Ray, other members of his crew included, Commander Sgt. Herman G. Selph, Pfc. Ralph S. Gillotti, Cpl. Rosser H. Nichols, T.A. Smith and Pfc. Oneil Cambre (killed on May 8, 1945), who were assigned to 3rd platoon of C Company. The 692nd supported the drive from the Roer to the Rhine River in late February and early March, and helped capture Cologne, Germany. After clearing more Siegfried Line fortifications, they crossed the Rhine at Worms on March 31st and raced across Germany in April, participating in the capture of Furth.
It was during the actions in April that Ray was cited for Gallantry and awarded the Silver Star. His citation reads as follows:
"The President of the United States of America, authorized by Act of Congress July 9, 1918, takes pleasure in presenting the Silver Star to Private First Class Raymond J. Zander (ASN: 32760646), United States Army, for gallantry in action while serving with Company C, 692d Tank Destroyer Battalion, 42d Infantry Division, in action on 24 April 1945 near Gosheim, Germany. As a Tank Destroyer Cannoneer, Private Zander successfully defended a Tank Destroyer convoy from serious damage from enemy aircraft. Although wounded by the strafing fire by the enemy aircraft, Private Zander opened fire on the hostile planes with a .50 caliber machine gun and destroyed one aircraft and forced the others to abandon their attack. As a result of Private Zander's courageous action, his Tank Destroyer Platoon was enabled to continue and assist in the capture of the town of Gosheim." -General Orders: Headquarters, 42d Infantry Division, General Orders No. 131 (July 30, 1945)
The 692nd was attached to both the 104th and 42nd Infantry Division at times during the war and received credit for the campaigns of Rhineland, Ardennes-Alsace and Central Europe. In addition to his Silver Star, and Purple Heart in recognition of his wounds, Ray was also awarded the Bronze Star Medal. He left the service on November 17, 1945, at the Fort Dix, NJ, Separation Center. He held rank of Private First Class.
Ray returned to New Jersey and made his home in Union Township. He went back to Acromark Corp. in Elizabeth, NJ, working as an engraver and on June 5, 1954, he married Anna Joyce Grabowsky in Roselle Park, NJ, and the new couple would honeymoon in Bermuda. Over the years, the couple lived in the Elizabeth and Bridgewater areas of NJ.
Ray was very proud of his service with the 692nd and in later years, he and Joyce published the unit's newsletter. Additionally, he was involved with the Military Order of the Purple Heart, serving as Commander for many years, the Disabled American Veterans, the American Legion, VFW, Veteran's of the Battle of the Bulge, 42nd Rainbow Division and The Grange organization where he served as President for many years.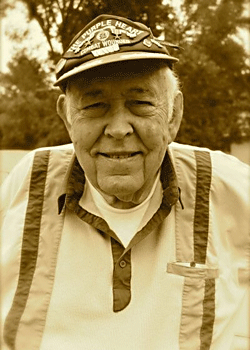 Ray was very active with the 692nd after the war as was mentioned earlier. In 2004, he was contacted by a young news reporter, Greg McQuade, who was looking for information about his grandfather who also served in the unit. Ray was happy to share what he knew and welcomed Greg into the organization. Greg and Ray would go on to become close friends and Greg was able to interview Ray on a number of occasions and he was kind enough to permit us to include a few of Ray's quotes in this tribute.
Concerning the deaths they experienced: "We went into an area and camouflaged the TD. We slept under the tank. We would do that every once in a while. We woke up and there was a lot of snow on the ground. This guy (Frederick H.) Doering found a foxhole. He jumped in. The Germans landed one in his foxhole. Boom! He wasn't there anymore. They hit him good. To me I always talk to myself about it. It hurt."
"It was through a forest in a town near Heidelberg. We heard noise. Soldiers were running like hell. Here comes the 42nd yelling, 'They're breaking through!' Nicolosi and his gunner I think. For some reason he got out. They walked up to the crossroads. The Germans had it pinpointed. Either artillery or a tank hit them. We were only 100 yards away. We didn't know till morning when it got light. I said, 'Nicolosi got hit, Holy Christ.'"
"We really gave it to the Krauts good going over and they gave it to us. On the outskirts of Aachen, B-17s came over and started dropping short. We lost 47 infantry guys."
"We were on the outskirts of town Aachen. It was the scene of a fierce firefight. We were poking around this forest area on a hill. We were looting looking for German Lugers. There were a lot of dead German bodies. It didn't bother me, but we came across four guys from the 104th who were dead. They were shot. I took their guns put bayonets on them and stuck the guns in the ground. I went and told an officer there were four bodies up there. I still think to this day. Did they ever pick'em up?"
Concerning their entry into Dachau Concentration Camp: "We moved up to the outside. We took up the infantry and dropped them off. They went in. We rode around the right side. We didn't see any big stuff. We put the tank destroyer under camouflage and rode in on a jeep. We pulled up to 100 yards of the main gate. All of the infantry jumped off. They went into the main gate. The boxcars were loaded to the top with dead bodies. We went around the right side. The next morning we went in. Everyone and their brother took in Dachau. A gang of us went in on jeeps we went into the camp. Poor suckers. They were not burning the ovens when we were there. The freight cars brought bodies in from some place. That's one thing you always say. 'how did this happen?'"
On the lighter side, concerning the end of the war: "We lived it up. Me and my buddies had a 16 cylinder car. We took it all the way to Innsbruck, then to Italy. We put a big star on the side. We would fill out fake trip tickets. We'd get gas and sign 'Captain Sad Sack'. We'd tell them the rest of the convoy was coming up behind us. We did occupational duty for June and July."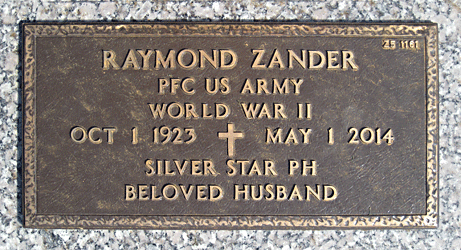 Ray passed away on May 1, 2014, and was buried in the Brigadier General William C. Doyle Veteran's Memorial Cemetery in Arneytown, NJ. I want to thank Greg McQuade for providing information and photos for this tribute. I also want to thank Find A Grave contributor, 13th Generation Fairbanks in America, for the use of the grave marker photo (Memorial #48248542). A special thank you to 692nd veteran and fellow crewmember, Ralph S. Gillotti, who wanted to honor his friend Ray.