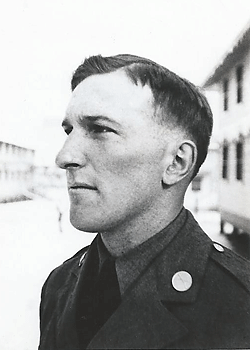 Burton W. Zanoya
Biography: Burton "Burt" Wesley Zanoya was born on September 8, 1916, in Dane County, Wisconsin. He was the son of John Zaoya and Mattie Elizabeth Quillin and attended Madison East High School, graduating in 1935. After graduating, Burt worked at Rundle-Spence Manufacturing, a plumbing supply company. In his spare time, he enjoyed hunting, photography and spending time on his motorcycle.
Service Time: Burt entered the service on July 3, 1941, at Milwaukee, WI. He received training at Ft. Leonard Wood, Missouri, and Camp Wolters, Texas, rising to the rank of Technician, 5th Grade. He was chosen for the Officer Candidate Course at the Tank Destroyer School, Camp Hood, TX. The course ran from December 21, 1942, to March 18, 1943, when he was commissioned as a Second Lieutenant. He continued his training by taking the Officers Pioneer Course, from October 4th, until November 12, 1943.
Officer Candidate Course Cert.

Burt shipped to Europe in June of 1944, and was assigned to Company B of the 899th Tank Destroyer Battalion. The unit had already seen action in both North Africa and Italy. After landing in Normandy, the 899th helped capture Cherbourg and supported the Cobra Breakout before moving through France and into Belgium. Parts of the unit were deployed in the early days of the Battle of the Bulge to stop the German advance. In mid-December of 1944, while located just west of the City of Duren, 1st Platoon of B Company was positioned in Echtz, preparing to move to Hoven. 2nd platoon was in Mariaweiler, while 3rd platoon moved along the railroad tracks, north of Derichweiler. On December 15, at 1705 hours, it was reported that Burt had been wounded by shell fragments in his back. Initially, these wounds were not considered serious but it was later identified that Burt had died the next day, December 16th, from his wounds.
Obituary – Capital Times Newspaper
At the time of his death, Burt's parents had already passed away but he still had two brothers, Earl and Philip. Philip was a Lieutenant in the Army Air Corps and had already completed 35 missions over Europe. Burt was brought home and buried in the Rock Island National Cemetery, Rock Island, Illinois.

The photos below show Burt on his motorcycle in July of 1940, in his winter uniform prior to his Officer's training and while doing some practice on a .30 caliber, water-cooled machine gun. The last photo is Burt's grave marker in the Rock Island National Cemetery.
Years after Burt's death, a letter was sent to the Zanoya family from the Superintendent of the Madison Public School system. In the letter, the Superintendent expresses his sorrow for the families loss and the gratitude the community feels for the service these young people had given. He says that Burton was remembered as a quiet and unassuming boy, who was a good school citizen and that he was a credit to the school. I think it is good for all of us to remember Burton and all the sacrifices that were freely given for the freedom we enjoy today.
I want to thank Burt's nephew, John, for providing the photos and materials for this tribute.