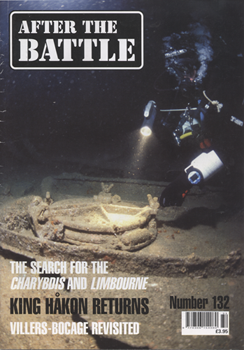 After The Battle's issue number 132 features an interesting article on Patton's Desert Training Center. Established in March of 1942, the Desert Training Center would become a pivotal exercise area for troops heading to the gruelling climate and terrain of Northern Africa. This 10,000 square mile would be expanded to 17,700 square miles, an area considerably larger than England, only to be closed in April of 1944. By that time, over 300,000 troops had received training there. As identified in the article, the 6th TD Group would be involved in specific maneuvers under White's IX Corps from June 27 until July 15th 1943. The article also has a cute story about the camp morale officer, a donkey the soldiers named Eight Ball.
After The Battle has been in business for over 35 years providing history of all major conflicts. They produce both magazines and books and their "Now and Then" photo comparisons are a favorite of mine. I have purchased a number of their issues.
After The Battle has their own website, www.afterthebattle.com with a free down-loadable index of all their issues, which makes finding a particular subject relatively easy. Purchasing the issues must be done through their U.S. importer, RZM Imports. You can find them at www.rzm.com. Issue costs are reasonable.