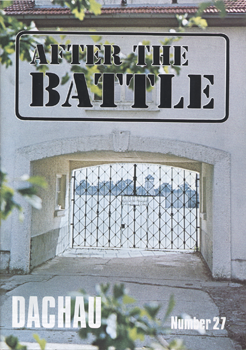 After The Battle's issue number 27 features a great article on the Dachau Concentration Camp.  As many of you know, the 6th Tank Destroyer Group spent many months at the facility during the summer of 1945, immediately after the war.  Many soldiers toured the camp, at the direction of General Eisenhower, to showcase the atrocities that were committed there but the 6th was stationed there and performed guard and security duty for the area.  I was very curious about the facility and found the Now and Then photos to be of particular interest.
The article covers 30 pages of the 53 page magazine.  There are some very graphic images but most focus on the changes from its war years to more modern times.  The issue is from 1980 so the photos aren't current but they do give you an idea of the camps transition over the years since the war ended.
After The Battle has been in business for over 35 years, providing history of all major conflicts. They produce both magazines and books and their "Now and Then" photo comparisons are a favorite of mine. I have purchased a number of their issues.
After The Battle has a website, www.afterthebattle.com, with a free down-loadable index of all their issues which makes finding a particular subject relatively easy.  Purchasing the issues must be done through their U.S. importer, RZM Imports.  You can find them at www.rzm.com.  Issue costs are reasonable.