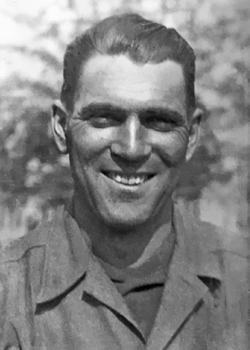 Richard C. Chapman
Biography: Richard Culley Chapman was born on June 27, 1912, in Kansas City, Missouri. He was the son of Charles K. Chapman and Nellie Grant Culley and graduated from local schools. He then found work with SOHIO (Standard Oil of Ohio), managing a gas station.
On March 9, 1935, he married the former Ruth Ester Reinhart, "Pinky", who was the daughter of Harvey and Zoa Reinhart. The new couple would make their home in Toledo, OH.
Richard continued his education at one of the Ohio colleges and had received a small football scholarship to assist him financially. Sadly, while continuing to work full-time at the gas station, he was unable to maintain his grades and he was forced to leave school. Having to leave school was one of Richard's deepest regrets in life.
Service Time: Richard entered the service on December 29, 1942, at Toledo, OH. After his basic training, he was assigned to the 2nd Platoon, Reconnaissance Company of the 811th Tank Destroyer Battalion which we believe was stationed at Camp Carson, Colorado at the time. He was assigned to an M8 Armored Car crew, commanded by 1st Lt. Gordon R. Harris, and consisting of T/4 Arthur J. Cameron, the radio operator, T/5 Richard Chapman, the driver and T/5 Ralph J. Brendel, the gunner on the unit. They named their vehicle, "The War Betsy".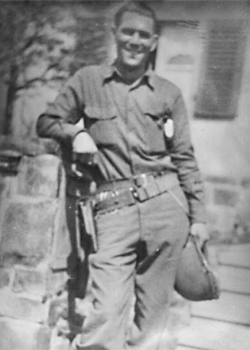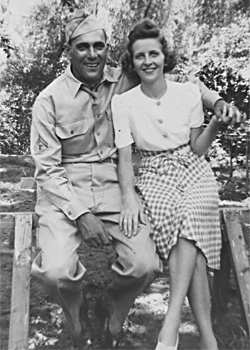 The photo above right, of Richard and Pinky, was taken at one of the unit's training camps. Pinky was working at the Champion spark plug factory in Toledo and was told that she could not make the trip to see Richard or she would lose her job, she went anyway.
Richard trained at a number of military facilities throughout the U.S., including Camp Gruber, Oklahoma, Camp Livingston in Louisiana for large scale maneuvers held there and Camp Miles Standish, Massachusetts. The unit shipped out from the Boston, MA, port on September 5, 1944, aboard the Navy transport ship, U.S.S. General J.R. Brooke. They arrived at Cherbourg, France, on September 15th and were equipped with M18 tank destroyers, moving to Luxembourg in November and participating in the Battle of the Bulge in December.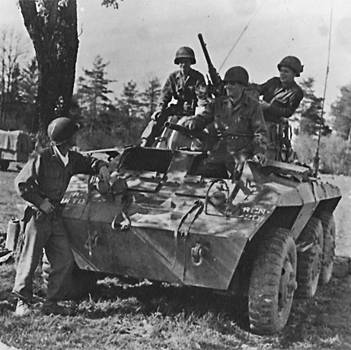 The battalion was scattered widely and pieces attached to many divisions into January. It was that same month that Richard was wounded. The 811th supported operations against the Siegfried Line in February and early March and advanced to the Rhine River in late March, finally crossing on the 30th. They supported the 80th Infantry Division in the capture of Kassel, Germany, and advanced to Erfurt and Chemnitz, Germany, in April. They moved south and crossed the Danube River to Regensburg, entering Austria on May 5th.
In the photo at the left, Richard can be seen with his hand on the unit's main gun.
The 811th received credit for three campaigns including Rhineland, Ardennes-Alsace and Central Europe. Richard additionally received the Purple Heart in recognition of his wounds. He shipped home on August 15th from La Havre, France and arrived back in new York, Pier 21 on the 27th. He was discharged at Camp Atterbury, Indiana on November 8th, at the rank of Technician 5th Grade.
After the war, Richard wrote what he calls a memorandum of his time in the 2nd platoon to highlight some of their more important accomplishments. It also includes a listing of platoon personnel (former and present), their military jobs and home addresses. You can view a copy of the document by clicking here.
He returned to Ohio and Pinky and to his former employer, SOHIO. He remained with the company and by the end of his career, he was in charge of development and construction of new gas stations. Richard and Pinky would have a daughter Elizabeth, born in 1946, and in his spare time, Richard enjoyed golf, bowling and stamp collecting.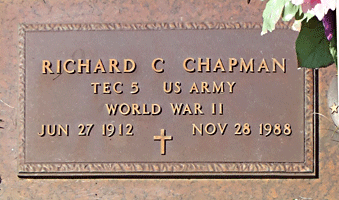 Richard passed away on November 28, 1988, and was buried in the Deltona Memorial Gardens in Orange City, Florida. I want to thank Richard's granddaughter, Zoe, for providing the information and photos used in this tribute. Thank you also to Find A Grave contributor, JME, for the use of the grave marker image.