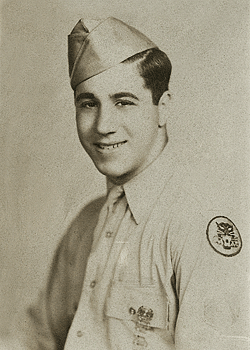 Frank L. Calvaruso
Biography: Francesco "Frank" Louis Calvaruso was born on February 10, 1925, in Akron, Ohio. He was the son of Giuseppe Calvaruso and Caterina Nastasi and graduated from Akron North High School in 1943.
Service Time: Frank entered the service on March 9, 1943, at Fort Hayes, Ohio. He went through basic training and qualified as an Expert with both the Thompson Sub-Machine Gun and Rifle and was eventually assigned to the 667th Tank Destroyer Battalion. Although the 667th didn't receive credit for any overseas activities, Frank was overseas for almost a full year and received credit for the Rhineland campaign. One clue to Frank's service is a post card identifying that in September of 1944, Frank was assigned to Company F of the 45th Cavalry Reconnaissance Squadron at Camp Maxey, Texas.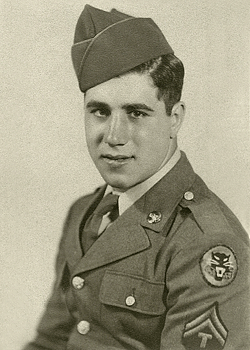 Obviously, there is more to his service time that is currently unknown. It is my guess that his time in the 45th was prior to when he attended the Tank Destroyer School at Camp Hood, TX. We are not sure of the particular unit Frank was with when he was overseas but he was very proud of his service with the Tank Destroyers. Hopefully in time, additional information from the 667th will become available.

Frank left the service on April 13, 1946, at Camp Atterbury, Indiana, at the rank of Technician 5th Grade. In addition to the EAME medal with one Campaign Star, he also received the American Theater Medal, the WWII Victory Medal and the Good Conduct Medal.
After Frank was back is the U.S., he worked as a Police Officer in his home town of Akron for a number of years but went on to sell used cars, manage a hotel and a number of other positions over the years. He also worked at a friend's job placement service called Hours, Inc.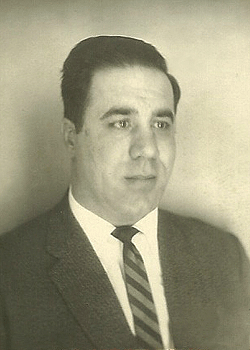 Frank never married but he did enjoy horse racing and playing cards as well as all types of sports. He was also a member of Saint Anthony of Padua Catholic Church. Frank passed away on December 13, 1979, and was buried in the Holy Cross Cemetery in Akron, OH.
I want to thank Frank's nephew, Michael, for providing this information and the photos of his uncle.