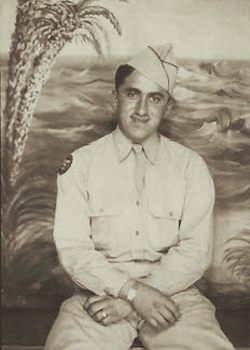 Anthony B. DePasquale (Anthony Patsy)
Biography: Anthony (Tony) Bruno DePasquale, was born on October 3, 1922, in Point Marion, Pennsylvania. He was the son of Giovanni Batista DePasquale and Octavia Maria Merclie and graduated from Point Marion High School in 1940. Tony began his career at the Houze Glass Factory, where he worked for 7 years. He started as a factory laborer, but left as a tradesman glass blower making window glass.

Service Time: Tony entered the service on January 20, 1943, and was assigned to the Reconnaissance Company of the 692nd Tank Destroyer Battalion. He trained with the unit at Camp Hood, Texas, and at Camp Phillips, Kansas. They then moved to Carthage Junction, Tennessee and participated in the Tennessee Maneuvers. The unit continued on to Camp Campbell, Kentucky, and then to Camp Kilmer, New Jersey, for final processing before shipment to Europe.
The 692nd entered action in October of 1944, as a towed TD battalion, but converted to M36s, just after the Battle of the Bulge in February of 1945. In addition to the Bulge, the unit was committed to fighting along the Siegfried Line and supporting the drive from the Roer to the Rhine river. They also helped in the capture of the cities of Cologne, Furth, and the Dachau Concentration Camp. Tony's duties included being a 50 cal. gunner and driver. The unit would go on to participate in three campaigns, including Rhineland, Ardennes-Alsace and Central Europe. Tony received the American Theater Service Medal, EAME Medal, Good Conduct Medal and the World War II Victory Medal. He left the service at the rank of Pfc.
When Tony returned to the U.S., he registered at Indiana State Teachers College, in Pennsylvania, where he received his BA in mathematics. He did this, in only 2 ½ years, using the GI Bill. After graduating, he was not able to find work around his home town, so in 1952, he moved to Northern Virginia. He was hired by the City of Falls Church school system, teaching Math, at George Mason High School. Tony also met his wife, Nancy, there, she happened to be the school librarian. At the time of his death, the couple had been married for 57 years. He earned his Masters in Administration from George Washington University.

Tony loved teaching, but being a school teacher did not meet the financial needs of his growing family, so he went to work at Melpar, which was a large company in Falls Church. The company was later purchased by E-Systems and after 37 years, Tony retired as a Vice President. Tony said teaching was his hardest job, but the one he liked the most. During his time with E-Systems, he worked for 19 years teaching night school for George Washington University and retired as an Assistant Professor.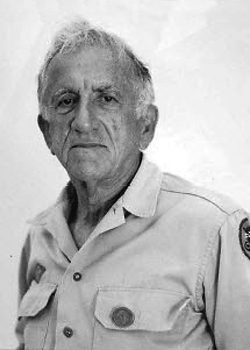 Tony retired in 1994 at the age of 72 and he and Nancy traveled extensively throughout the world, with their last trip being to Costa Rica, in 2012. He passed away on April 26, 2013.
The second photo was taken at the opening of the World War II Memorial in 2004, when Tony was interviewed by NPR (National Public Radio), for their living history program. He was chosen because he was walking around the memorial in his original uniform!