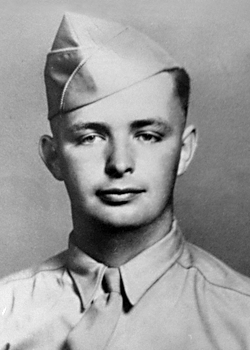 John L. Fraser
Biography: John Louis Fraser was born on October 8, 1923, in Sandwich, Illinois. He was the son of E. Oliver Fraser and Edna Amelia Betz and attended public schools in Sandwich. After graduation, he worked as a farmer.
Service Time: John entered the Army on April 16, 1943, at Camp Grant, IL. After his initial training, he was assigned to Company B of the 825th Tank Destroyer Battalion and continued his training with them at various military facilities, including Camp Hood, Texas, and briefly at Camp Phillips, Kansas, before shipping to Devils Lake, North Dakota, to assist with the record wheat harvest.
They participated in the Tennessee maneuvers from November 9, 1943, to January 15, 1944, before moving to Camp Campbell, Kentucky, and then Camp Breckenridge, KY. It was from there that they boarded trains for movement to Camp Kilmer, New Jersey, to make final preparations for the trip overseas. They shipped out from the New York port on May 30, arriving in England on June 5th. On July 30th, the men finally went ashore at Utah Beach in Normandy, France.
The unit was assigned to the Communications Zone and 12th Army Group security duties between August and December, 1944, and on December 17th, the battalion entered combat near Malmedy, Belgium. On January 16, 1945, they returned to security duties.
The 825th received credit for campaigns in Northern France, Rhineland and Central Europe. As indicated by his discharge, he also received credit for the Ardennes campaign. John left the service on December 20, 1945, at Fort Sheridan, IL. He held the rank of Technician 4th Grade.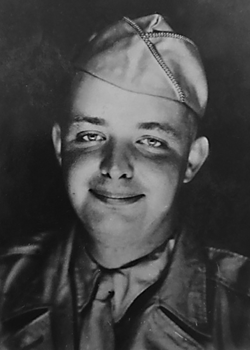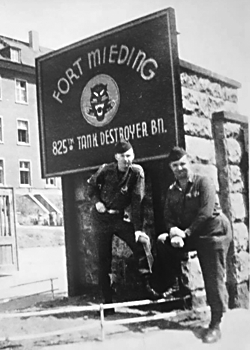 The photo at right shows John L. Fraser, also on right, with Barry M. Gillespie. It was taken, after the war, in June of 1945, at Fort Mieding in Wiesbaden, Germany. The facility was a former SS training school, which was renamed after the unit's commander, Lt. Col. Rudolph H. Mieding. The 825th was stationed there, awaiting orders.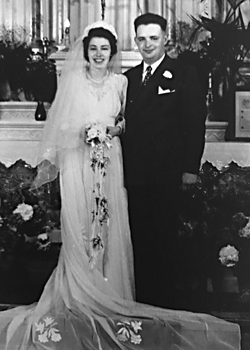 John returned to his hometown of Sandwich and to farming. On June 28, 1947, he married the former Veronica Magdalene Berkes who was born in Sycamore, IL, and was the daughter of John Anthony Berkes and Mary Margaret Then. The couple would have three children, Mary, born in 1950, David in 1953, and Joseph in 1959. John would become a Real Estate Broker and had a keen interest in history and politics, moving him to become a member of the Dekalb County Board of Supervisors.
He was also a member of the VFW and American Legion Post 181 and served as a Post Commander. He was a Charter Member of the Tri County Board of realtors and a member of the St. Paul's Catholic Church. John was very proud of his service in the 825th and dreamed of having reunions with the men he served with. Sadly, John passed away on August 11, 1977, before the reunions were started. He was buried in the St. Paul's Queen of Angels Cemetery in Sandwich, IL.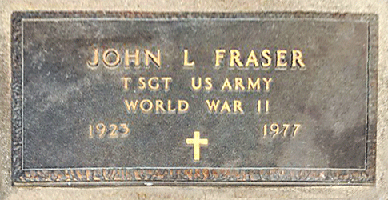 I want to thank John's daughter, Mary, for providing the information and materials for this tribute. I also want to thank her for providing materials and assistance in honoring other members of the unit. Some time after her father's death, Mary became secretary of the 825th TDB Association and has been an invaluable resource in preserving the history of the unit and helping maintain connections between the remaining veterans and their families.
I also want to also thank Serge Lamaire, who lives in Belgium and tracked down Florence Hoffmans (Huygen), who was only 6 when John was billeted with her family. The 825th was stationed in the Tongeren, Belgium, area, where the Hoffmans lived. When possible, soldiers stayed with local families to give them some relief from sleeping in tents and their TDs. Florence was able to share some stories with Serge about the men's time in her home. Photos of the Hoffmans family and Florence can be seen in the Photo Gallery of the 825th.