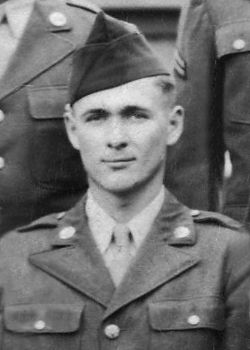 Robert R. Ford
Biography: Robert Raymond Ford was born on January 21, 1924, in Blackford County, Indiana. He was the son of Raymond Earl Ford and Lena Esther Herbaugh and attended the Chester Center school. After leaving school, Robert worked on the family farm.
Service Time: Robert entered the service on December 21, 1942, at Indianapolis, IN. During his training, he qualified with a number of weapons, receiving a Marksman rating with the Carbine and Rifle and an Expert rating for the 81mm Mortar and 76mm gun.
He was assigned to Company C of the 809th Tank Destroyer Battalion and while at Camp Hood, Texas, he attended the Tank Destroyer Automotive Course. At the end of his training, he received his tank mechanic specialty which he used throughout the war. The 809th landed in England on December 8th, 1944, and then arrived at Le Havre, France, on January 20, 1945. The unit was equipped with M18's and supported the Roer River crossing and operations at the Rhine River and Roer Pocket in April. They were converted to M36's that same month and assisted in clearing the enemy from the Harz Mountains.
Robert returned to the states on July 11, 1945, and was assigned to Company A, Headquarters, War Department Personnel Center at Camp McCoy, Wisconsin. He was discharged from Camp McCoy on October 4, 1945, at the rank of Technician 5th Grade.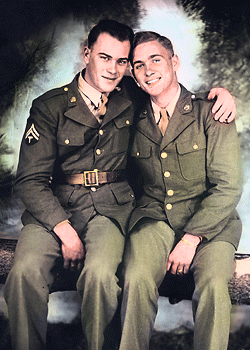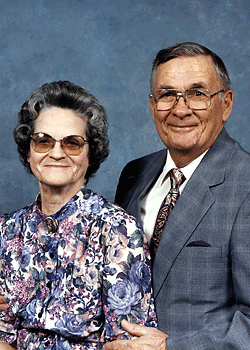 Robert is shown in the photo above left sitting on the right with his brother, William, on the left. William had also served in the 809th and is honored with his own Honoree page. The photo on the right shows Robert later in life with his wife Ruth.
He settled back in Indiana and Wells County, initially in Keystone, during which time he married the former Sarah Ruth Emshwiller on February 2, 1946. Ruth's brother, Floyd, was the clergy that officiated the ceremony. Ruth was the daughter of Walter Emshwiller and Anna Rix and was born in Blackford County also. The couple later lived in Bluffton, from 1956 to 1963, and then moved to Poneto. They had two children, Elaine, born in 1956 and Duane in 1958.
Robert continued to farm but also became a tool and die maker for Franklin Electric. He also worked as a truck driver for the Wells County Highway Department. He always liked horses, which included the motorized versions in the form of motorcycles. He also enjoyed construction projects. He was a member of Amercian Legion and the Loyal Order of the Moose. Robert passed away on March 23, 2006, and was buried in the McFarren Cemetery, in Wells County, near Poneto.
I want to thank Robert's daughter, Elaine, for supplying the information and materials for this tribute as well as for her Uncle William and the 809th.