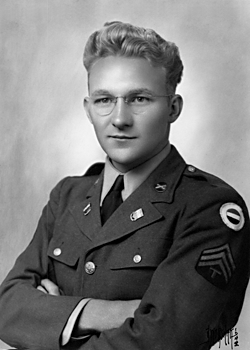 Paul P. Gibbs
Biography: Paul Porter Gibbs was born on January 1, 1919, in Duluth, Minnesota. He was the son of Paul P. Gibbs Sr. and Ellen V. Clifton and attended local schools, graduating in 1939. He then worked as a tractor operator.
Service Time: Paul entered the service on March 12, 1941, at Fort Snelling, MN. After his basic training, he was ultimately assigned to the Reconnaissance Company of the 776th Tank Destroyer Battalion and trained with them at various facilities within the U.S. Paul received additional training and functioned as a radio operator.
Various components of the 776th began assignments as coastal and installation guards in various locations in the Northwest. They also trained at Camp Hood, Texas and on January 14, 1943, they shipped out from the New York Port of Embarkation, arriving at Casablanca, French Morocco on the 25th. They fought in the area of Maknassy and Ferryville, Tunisia. Eighteen enlisted men participated in the Sicily, Italy, campaign as radio operators and military police.
The unit debarked in the vicinity of Cappaci, Italy, beginning on September 19th. Paul recalled that on the 29th, while traveling in a half-track driven by Rico (T/5 Amerigo Benedetti) along the Salerno beachhead, he, along with five others were blown out of the vehicle when it hit a mine. Additional men in the vehicle were 1st Lt. Paul R. Brunt, who was the Platoon Commander, 1st Lt. Sheldon L. Thompson, the Company Commander, Leslie J. Racine and a sixth soldier. All of the men were injured but Lt. Thompson was seriously wounded and had to be evacuated back to the beachhead. He was eventually taken to a hospital ship bound for Algiers in North Africa. Paul had shrapnel wounds in his legs and was stiff and sore from the incident but was able to rejoin his unit six weeks later.
The main body was committed near Rotondi October 10, 1943, where it supported the Volturno River crossing. They supported the Rapido River crossing and fought near Cassino January–March 1944. They joined the breakthrough of the Hitler Line in May, 1944, and entered Rome on June 4th, later joining the drive to the Arno River. Transferring to southern France in September–October, 1944, they received M36 tank destroyers during this period. The 776th moved into the line near Luneville on October 30th and supported the French 2d Armored Division advance to Strasbourg in November. Battling the German Nordwind offensive around Rimling, France, in January 1945, they claimed the first Jagdtiger destroyed on the Western front. They attacked the Siegfried Line near Omersheim, Germany, and crossed the Rhine River near Worms in March. The unit aided in the capture of Mannheim, Heidelberg, and Ulm, Germany, and crossed Danube in April, ending the war in Ehrwald, Austria.
Paul was looking forward to shipping home but he was selected as part of a cadre to go to the Pacific war zone. Once the Atomic Bombs were dropped, it became difficult for the men to find transportation home since they were no longer part of the 776th. After many delays, Paul finally arrived home on October 7th and was discharged on the 14th at Camp McCoy, Wisconsin. He left the service at the rank of Technician 4th Grade and received credit for campaigns in Tunisia, Rome-Arno, Naples-Foggia, Rhineland and Central Europe. He was awarded the EAME, American Defense and the Good Conduct medals and received the Purple Heart for wounds he suffered in Italy. He also shared in the unit's award of the Presidential Unit Citation.
Paul returned home to Duluth and would marry begin taking flying lessons and after receiving his pilot's license, he used his G.I. Bill benefits to pursue a commercial license and instructor rating in El Monte, California, which he did at the end of June 1947. An instructor's job was waiting for him in Wisconsin and he achieved all the airplane and instructor ratings possible over the course of his 20-year flying career. After many adventures, he ended his flying at the age of 45. Paul had also entered into marriage with Marcella, which would later end.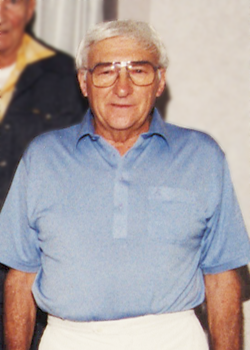 He moved to Benson, MN, in May of 1964, and started a discount store, which was very successful for 11 years. He then moved to Santa Barbara, California and purchased a sports bar, which was eventually managed by his daughter during his retirement. Paul continued as owner for 36 years. In his spare time, Paul enjoyed golfing, skiing and travel. In 1989, he began a relationship with his new neighbor Laura, which would later blossom into marriage in 1991.
In 1992, Paul reached out to Betty Liegel, who was the wife of Headquarters Company soldier Albert A. Liegel. The couple were highly involved in the 776th's reunion group and put out the unit's "Tiger Tracks" newsletter. Paul was able to reconnect with a number of members of the unit and attend the unit's reunion in Cedar Rapids,Iowa. The letter he sent to Betty also provided additional details of his service time and life after the war.
Paul passed away on November 23, 2007, and was cremated. His remains were spread at sea off the coast of Santa Barbara, CA. The following poem, "Ode to Paul Gibbs" was written by Tom Norman on July 18, 2008.
Ode to Paul Gibbs – by Tom Norman
I want to thank Paul's wife, Laura, for providing the information and photos used in this tribute.