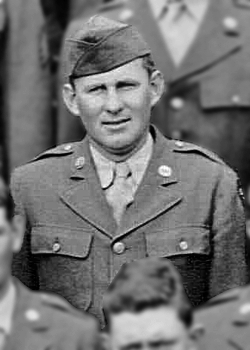 Philip D. Holley
Biography: Philip Doyle Holley, "Doyle", was born on June 20, 1915, in Coushatta, Louisiana. He graduated from school in Dubberly, LA and worked as a farmer and at his father's grocery store prior to the war.
Service Time: "P.D." as he was known while serving in the Army, entered the service on January 17, 1942, at the Jacksonville (Florida) Army Airfield. He was sent to basic training and initially assigned to the Battery C, 2nd Battalion of the 1st Training Regiment of the FARC (Field Artillery Replacement Training Center) located at Fort Bragg, North Carolina. P.D. can be seen standing in the 4th row from front, 11th from right. It was during this time that he qualified as a Marksman with the Carbine and Machine Gun.
Battery C, 2nd Bn, 1st TNG Regiment of the FARC

After basic, he was assigned to B Company of the 809th Tank Destroyer Battalion. The unit shipped out from the New York port on November 30, 1944, and arrived at Liverpool, England, on December 8th. Just over a month later they were loaded on transports and sailed to Le Havre, France, landing on January 20, 1945.
They were equipped with M18 tank destroyers and supported the Roer River crossing in late February. The 809th crossed the Rhine on March 27th and supported operations against the Ruhr Pocket in April. They converted to M36 TD's that same month and then helped clear the Harz mountains in late April.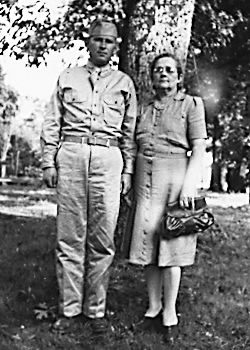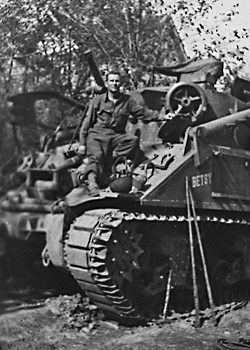 The photo at left shows P.D. with his mother at her home in Dubberly. The photo at right shows him on one of the unit's recovery vehicles, which they have named "Betsy".
P.D. received credit for the campaigns of Rhineland, Ardennes-Alsace and Central Europe. He was awarded the EAME, WWII Victory, American Campaign and Good Conduct Medals. He left the service on November 8th at Oakland, California, at the rank of Technician 4th Grade.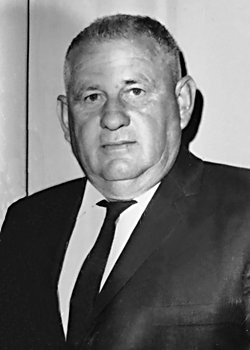 Now back in civilian life, Doyle made his home in Heflin, Louisiana, and owned and operated his own grocery store. In November of 1946, he married the former Carolyn Morgan and the couple had two daughters, Ann and Carol.
In his spare time, Doyle enjoyed fishing and was an avid sports fan. He was a member of the United Methodist Church, the Lions Club, was a Heflin Town Councilman and a Webster Parish Jury Commissioner for 40 years.
His daughter remembers that he attended at least one of the 809th's reunions but his business didn't provide many opportunities to get away. He exchanged Christmas cards with some of his Army buddies for many years but rarely mentioned the war. For his daughter's history class, he answered a few questions and recalled how cold it was and that while in Cologne, Germany, there wasn't a window in the city that hadn't been shattered.
Doyle passed away on May 5, 1988, and was buried in the Brushwood Cemetery in Dubberly LA. I want to thank Doyle's daughter, Carol, for providing the information and photos used in this tribute. I also want to thank Jerry McMenis for the use of the grave marker photo.