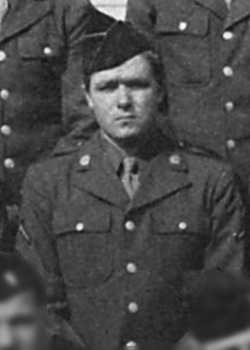 Johnny B. Homesley
Biography: Johnny Bennett Homesley was born on June 14, 1921, in Gaston County, North Carolina. He was the son of Vernon N. Homesley and Lathie Smith and attended local schools through the grammar level. He then went to work in the manufacture of textiles.
Service Time: Johnny entered the service on April 26, 1943, at Camp Croft, South Carolina. After his basic training, he was assigned to Headquarters Platoon of the Reconnaissance Company of the 651st Tank Destroyer battalion and trained with them at various military facilities within the U.S. It was during his training that Johnny qualified as an Expert with the sub-machine gun.
On May 29, 1944, while stationed at Camp Howze in Texas, the 651st was disbanded and its members were sent to other units. Johnny was ultimately assigned to Company B of the 825th Tank Destroyer Battalion, which shipped overseas on May 30th. Since there was no time for him to ship out with the unit, we believe he would have shipped out later and joined the 825th in the United Kingdom.
The men of the 825th boarded transports and went ashore at Utah Beach in Normandy, France, on July 30th and were assigned to the Communications Zone and 12th Army Group security duties between August and December, 1944. On December 17th, the battalion entered combat near Malmedy, Belgium. On January 16, 1945, they returned to security duties.
After the war had ended, men with higher service points were being sent home while lower point personnel were sent to other units for occupational duty. Johnny was transferred to Company B of the 703rd and remained in Europe until December 22nd, when he shipped home, arriving back in the U.S. on January 2, 1946. Johnny received credit for the campaigns of Northern France, Ardennes-Alsace, Rhineland and Central Europe and was awarded the EAME, American Theater, WWII Victory and Good Conduct Medals. He left the service at the rank of Private First Class.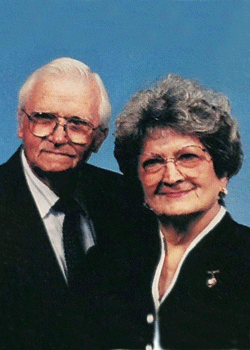 Now back in the U.S., Johnny found work with the Associated Transport Trucking Company. On December 26, 1948, he married Martha, who was born in Gaston County, NC. The new couple would make their home in Gaston and have two sons.
In his spare time, Johnny enjoyed bowling, golf and fishing. He was also a member of the American Legion and the Alexis Baptist Church. He passed away on September 11, 2001, and was buried in the Alexis Baptist Church Cemetery in Alexis, NC.
I want to thank the Homesley family for providing the information and photo for this tribute. I also want to thank Find A Grave contributor Toney Payne for the use of the grave marker photo and Paul Stevens for the discharge document. Thank you to Serge Lemaire for his research to honor these men.