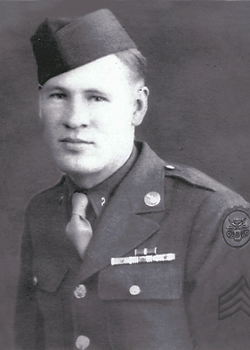 Joyce H. Hawks
Biography: Joyce Harland Hawks was born on March 26, 1923, in Galax, Virginia, which is in Carroll County. He was the son of Clarion Lafayette Hawks and Josie Lyon and attended school in Lambsburg, VA, through the 10th grade. After leaving school in 1940, Joyce worked as a truck driver, hauling stone and lumber, for Homby and Robertson, which was located in North Tazewell, VA.

Service Time: On January 30, 1943, Joyce enlisted in the Army at Abington, VA. He was trained as a replacement and received a Marksman rating with the M-1 carbine and machine gun. He shipped out on June 10, 1943, arriving in North Africa on the 21st. Joyce was assigned to Company B of the 899th Tank Destroyer Battalion and served with them receiving credit for 6 major campaigns. In May of 1945, Joyce spent time in hospitals in Germany and England for non-combat related illnesses.

He received the Bronze Star, the EAME Medal, the WWII Victory Medal and the Good Conduct Medal. He had reached the rank of Sergeant. Joyce returned to the U.S. on October 25, 1945, and left the service 5 days later on the 30th, at Fort George G. Meade. His arrival home was bittersweet since his mother had just passed away and had been laid to rest the day before his arrival.
Joyce settled in Chicago, Illinois, and found work at the Pullman Railroad Car Company. He worked there for 35 years before retiring. During that time, he had married the former Harriet Mary Gonska, who was the daughter of Pawel Gonska and Mary Eve Pawelec. Harriet was born in Chicago. The new couple had 4 children, Barbara, born in 1950, Mary, in 1954, Russell, in 1955 and Margaret in 1962.
After retirement, the family moved to Cana, VA and Joyce was able to devote more time to three of his favorite hobbies, playing poker, watching auto racing and spending time with his beloved grandchildren. Joyce was also an avid baseball fan, especially for his favorite team, the Chicago White Sox. Just prior to his death on January 14, 2006, Joyce was hospitalized but while he was there, he was able to watch his team win the 2005 World Series. Joyce was buried in the Oakland United Methodist Cemetery in Carroll County, VA.
I want to thank Joyce's son, Russ for providing the photo and information for this tribute. Russ remembers his father as a strict man but obviously loved by his family.