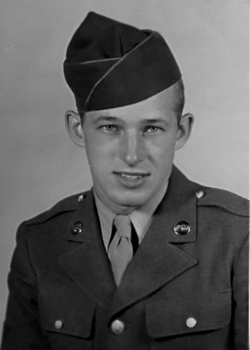 Max E. Little
Biography: Max Elwood Little was born on November 24, 1923, in Montoursville, Pennsylvania. He was the son of Raymond Little and Inez M. Wolf and attended schools in Montoursville, graduating in 1941. He then worked at Nabisco as a shipping and receiving clerk.
Service Time: Max entered the service on March 30, 1943, at New Cumberland, PA. During his initial training, he qualified as an Expert with the Thompson Sub-Machine Gun. He was assigned to Company B of the 672nd Tank Destroyer Battalion, which was later re-designated as the 672nd Amphibian Tractor Battalion and served in the South Pacific. The unit sailed from San Francisco on September 23, 1944, and landed at Bougainville Island, New Guinea, in October. They carried troops ashore during the assault landing in the Lingayen Gulf, Luzon, Philippines, and supported the 37th Infantry and 1st Cavalry in the drive to Manila. In February, 1945, the 672nd, attached to the 11th Airborne Division, captured the Los Banos Prisoner Camp and released the civilian internees.
They then moved to Morotia in June and carried troops ashore for the assault landing at Balikpapen Borneo, on July 1st. They returned to the U.S., on December 24, 1945.
Max received the Asiatic-Pacific Campaign Medal with credit for participation in the campaigns of the Northern Solomons, Western Pacific and Luzon. He also received the Philippine Liberation Medal, the WWII Victory Medal and the Good Conduct Medal. The 672nd was just recently awarded the Presidential Unit Citation, recognizing them for their part in the for the Los Banos rescue. Max would also be eligible to wear the decoration for this award. He left the service on January 6, 1946, at the Indiantown Gap Military Reservation, in Pennsylvania. He had reached the rank of Corporal.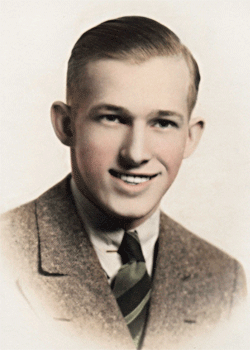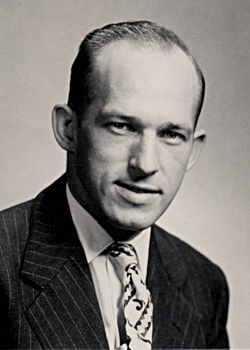 The photo at left above is Max's graduation photo. The photo at right is from the early 1950s. The photo below shows Max and Margaret in 1982.
Max returned to Montoursville, and also Nabisco, where he worked briefly as a sales representative and then for over 25 years as a truck driver. On December 20, 1946, he married the former Margaret Ann Chapman, who was the daughter of Frank L. Chapman and Elsie E. Hakes. The new couple had three sons, Max Jr., Jon and Philip. In his spare time, Max enjoyed hunting and fishing and was also a member of the American Legion Post 104.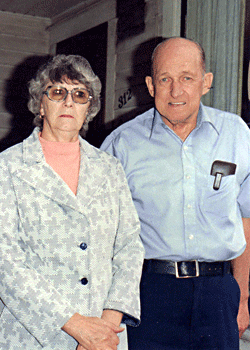 Max retired from Nabisco in 1973 after being with the company for over 30 years. He passed away on July 19, 1983, and was buried in the Montoursville Cemetery in Montoursville, PA. I want to thank Max's son, Max Jr., for providing the information and photos for this tribute.