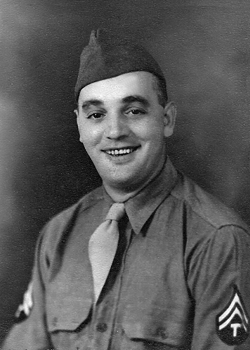 Sam M. Marzano
Biography: Sam M. Marzano, "Mickey", was born on December 6, 1912, in Chicago, Illinois. He was the son of Antonio Marzano and Mary Josephine Pacelli and attended local schools through the 6th grade level. He then worked in the family business selling newspapers and periodicals. His father owned multiple newsstand locations in the downtown Chicago area.
Service Time: Mickey entered the service on May 29, 1942, at Chicago and was sent initially for basic training as a field artilleryman at Camp Grant, Illinois. He was then sent to Camp Chaffie, Arkansas, to attend Cooks school for 10 weeks and received special training in the use of a field range and preparation of dehydrated foods. He was finally assigned to the Headquarters Platoon of Company A, 817th Tank Destroyer Battalion. While with the unit, he acted as Mess Sergeant and oversaw meals and prepared menus.
The 817th was originally trained with self-propelled TD equipment but was converted to a towed battalion in June, 1943, while still in the U.S. Just over a year later, in July 24, 1944, they shipped out from the Boston port and arrived in Scotland on the 31st.
On August 25, they landed at Utah Beach and took up rear-area security duties in France and Belgium, guarding the COMZ (Communication Zone) through November. The 817th entered battle in the Hürtgen Forest with the 8th Infantry Division on December 9th. They were then shifted to the Ardennes in February, 1945, and then back to the Roer River sector to fire as artillery. They participated in the advance to the Rhine River with the cavalry and crossed at Remagen, Germany, on March 15. They were the only towed TD battalion to enter the bridgehead but began conversion to M18's later that month on March 26.
The 817th joined the 104th Infantry Division at the Ruhr Pocket in April, and two companies joined the drive eastward from Marburg in mid-April, fighting in the Harz Mountains. They helped capture Halle and advanced to the Mulde River where offensive operations ceased. Mickey receive credit for campaigns of Northern France, Ardennes-Alsace, Rhineland and Central Europe. He received the American Campaign Medal, EAME Medal, WWII Victory Medal and the Good Conduct Medal.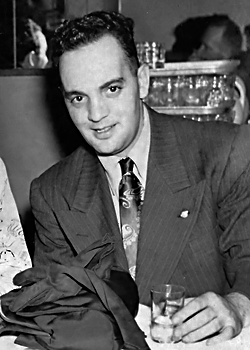 Mickey shipped back to the U.S. on November 23, 1945, and arrived on December 1st. He left the service at Camp Grant separation center on January 26, 1946, at the rank of Technician 4th Grade.
He returned to Chicago and briefly started his own cleaning service, but returned to his salesman job with his father after only a few months. In his spare time, Mickey was a horse racing enthusiast and loved to watch and bet on the ponnies.
Letter from S/SGT George M. Skadden

The letter listed above came from Mickey's friend, George (Company B), who lived in Springfield, Illinois. He was willing to give Mickey a ride to their 817th reunion, being held in New York, sometime in June, 1947, if he wanted to go.
Mickey passed away in May of 1960, and was buried in the Mount Carmel Cemetery in Hillside, Illinois. I want to thank Mickey's great-nephew, Mike Gasparino, for providing the photos and information for this tribute.