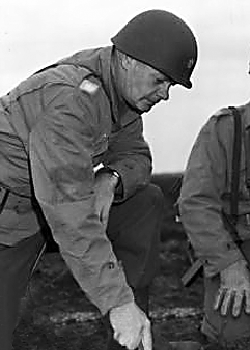 Frank S. Pritchard
Biography: Frank Spencer Pritchard was born on June 16, 1899 in Lansing, Ingham, Michigan, one of four sons born to Walter John Pritchard and Mary Ann Shipp. The 1920 Census shows him still in Lansing and working as a Laborer at Motor Works (believed to be Oldsmobile Motor Works).
At some point, he completed four years of college, believed to have been in the early 1920's. On September 6, 1924, Frank married the former Florence A. Dunning, from Lansing, who was the daughter of Fay G. Dunning and Anna B. Schlotter. In 1925, he is still at Motor Works but is listed as a Reporter at the Lansing State Journal in 1928.
Service Time: Frank enlisted in the Army in January, 1918, and participated in World War I as a Sergeant in Truck Company 3, First Corps Artillery Park, which was an ammunition hauling unit, departing from Hoboken, New Jersey, on May 22, 1918. He left Europe on July 21, 1919, departing Brest, France at the rank of 1st Sergeant with the same unit. He continued serving in the reserves. We don't have information as to the dates, but he graduated the Field Officer's Course at the Infantry School at Fort Benning, Georgia, and was also a graduate of the Command and General Staff College at Fort Leavenworth, Kansas.
Taking leave from his newspaper reporting job in 1937, he commanded two Civilian Conservation Corps camps near Gaylord, Michigan. In December, 1940, he returned to the Journal and on the same day, received orders to report to Fort Custer, Battle Creek, MI, where he served as Provost Marshal and was promoted to Major. A year later he was promoted to Lieutenant Colonel. As far as we know, Frank was the original Commanding Officer of the 646th Tank Destroyer Battalion which was activated on May 15, 1943, at Camp Hood, Texas.

On October 16, 1943, he was assigned as the Commanding Officer of the 614th Tank Destroyer Battalion. He would serve in that capacity throughout the unit's combat time in Europe. The 614th had been activated on July 26, 1942, at Camp Carson, Colorado, as a self-propelled battalion but after the disappointing performance of the early TD units in North Africa, the 614th was reorganized as a towed battalion in May, 1943. They would train at a number of military facilities including Camps Bowie and Hood in Texas. They also took part in maneuvers, held in Louisiana, early in 1944.
The unit shipped out from the New York port on August 27. 1944, and arrived in England on September 7th. A month later, on October 8th, they landed at Utah Beach, Normandy, France, and were initially deployed to Metz, later supporting operations against the Siegfried Line in November and December. They were shifted to the Hagenau Forest area and continued to support operations against the Siegfried Line fortifications until late March, 1945.
The 614th performed occupation duties in early April and then joined the race to Innsbruck, Austria, and Brenner Pass. He would remain overseas as part of the occupational forces, waiting for possible orders to transfer to the Pacific to fight the Japanese. The unit received credit for campaigns in Northern France, Rhineland, Ardennes-Alsace and Central Europe. The 3rd Platoon of Company C was awarded a Distinguished Unit Citation for actions at Climbach, France on December 14, 1944. He was awarded a Bronze Star and a Commendation Medal among other decorations. In mid-October, 1945, Frank was relieved of his command and returned to the U.S.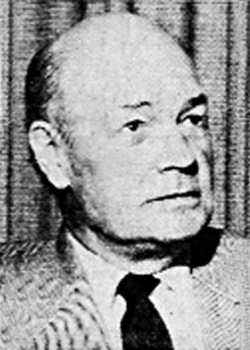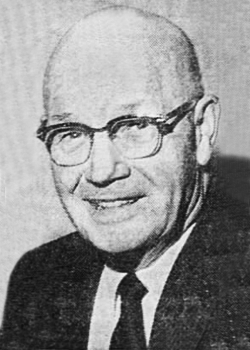 The photo above at left is from 1961, when he did a book review for the Lansing (Michigan) State Journal. The photo at right shows Frank a few years later, in 1964, when he was retiring from his job as editor of the Journal after 40 years in the newspaper business. This photo is also from the Lansing State Journal.
Book Review – Lansing State Journal, May 29, 1964
After returning home, he and Florence are listed as living in Kalamazoo, MI in 1945. They soon returned to Lansing and he resumed his reporting for the newspaper while continuing in the Army Reserves. While serving as commander of the 309th Armored Cavalry Reserve unit, he was appointed by the Mayor as Director of Civil Defense for Lansing in June, 1950, remaining in this position for two years. This action was related to rising tensions on the Korean peninsula.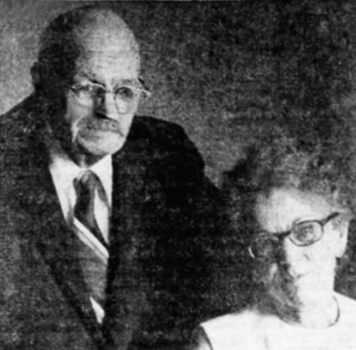 Frank spent 40 years working for the Lansing State Journal, 22 years as a reporter and 18 as State Editor. He retired from the paper in 1964. But, his friends and associates said he always considered himself a soldier first and a newsman second. He served 10 years on active duty and 32 as a reservist. He was also a member of Lansing Lodge No. 196, B.P.O.E. (Benevolent and Protective Order of Elks). The photo at left shows Frank and Florence on the occasion of their 50th wedding anniversary, September 7, 1974. Photo from the Lansing State Journal, Sept. 15, 1974.
Retirement Article – Lansing State Journal, May 29, 1964
Reunion Article – Lansing State Journal, March 22, 1971
Colonel Pritchard passed away on June 27, 1975, and was buried in the Mount Hope Cemetery, Lansing, Michigan. Thank you to Find-A-Grave member JLL for use of the grave marker photo.