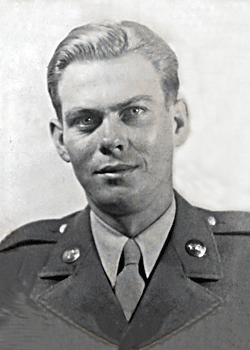 James W. Pearce
Biography: James Whitney Pearce was born on September 20, 1915, in Brooklyn, Mississippi. He was the son of John Travis Pearce and Jessie F. Long, McKinney. James had one brother, John, and after their mother died, John became ill and was sent to live with their step-sister, Ruby McKinney. She was a teacher who lived in Middletown, Ohio. About a year later, James, who was in his mid-teen years, hopped a coal train to join his brother in Ohio. James remained there and graduated from Middletown High School, in 1937.
In 1942, James married the former Anna May Cassidy, who was born in Hagerstown, Maryland. She was the daughter of Robert Harley Cassidy and Ruth Owen Brandt. The new couple made their home in Hamilton, Ohio. James worked in the office of the Gardner-Richardson Company, which manufactured box board and folding cartons. He and Anna May had one son, James Turner Pearce.

Service Time: James tried to join the Marines but was rejected. He then enlisted in the Army on March 17, 1943, at Fort Thomas, in Newport, Kentucky. After his basic training, James was assigned to Company A of the 692nd Tank Destroyer Battalion and served with them as a TD Commander. He saw action in both the Rhineland and Ardennes-Alsace campaigns.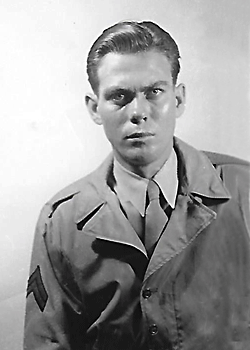 On December 2, 1944, the unit was attached to the 104th Infantry Division and German tanks had caused heavy casualties to the infantry soldiers. Sgt. Pearce volunteered to position his tank destroyer within 30 yards of an enemy controlled bridge, to prevent tank movement against Allied Forces. Thoughout the entire action, Sgt. Pearce and his volunteer crew were under extremely heavy artillery, mortar and machine gun fire. For his part, James received the Silver Star for Gallantry.

James was later wounded and received a Purple Heart but it was pneumonia that sent him to a Paris hospital, on January 2, 1945, and eventually led to his death, on January 11. His wife received a very nice condolence letter from the unit chaplain, Paul R. Walker, who said that James was well liked and respected by both the officers and men of the unit. The chaplain also mentions that her husband had been buried soon thereafter in an American cemetery in France.
James was brought back to the U.S. and buried in the Zachary Taylor National Cemetery, in Louisville, Kentucky. After the death of her husband, Anna May joined the Army and served as a nurse. James' brother served in the Navy during the war and James' son went on to serve in the the NSA, the Air Force and the Army National Guard. It is evident that this family's commitment to serving our country was taken seriously. I want to thank James' entire family for their service and sacrifice. A special thank you to James' son, Jim, for providing the materials used in this tribute.